I was too small for football and too slow for track. I played catcher, but was a lousy hitter.
My dad had been the captain of his football team and had even been offered a football scholarship.
In my case, the apple fell pretty far from the tree.
I was good at ony two sports, neither of which my dad considered manly.
Tennis and bowling.
I discovered tennis around age 12. My aunt and uncle had a summer cabin in Oklahoma. This cabin community had tennis courts and my aunt played.
She took my sister and me to the courts. My sister was sort of interested, but I was hooked.
I'd found a sport where I alone determined a win or a loss. Size didn't matter. It was speed and accuracy that counted.
Billie Jean King and Bobby Riggs were in the news at the time. I developed an affinity for tennis just as America was finally giving it the attention I felt it was due.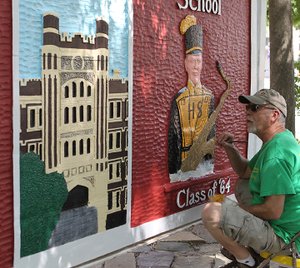 The Sentinel-Record/Richard Rasmussen Chuck Smith, of Hot Springs, paints the Bill Clinton sign located at Hill Wheatley Plaza on Friday. Smith said he's repainted the two-sided sign, which symbolizes Clinton's years in Hot Springs, numerous times over the years.
My hometown had two tennis courts. They were behind the high school gym. Frequent trips were made to the courts on my bike, in search of someone who might be there looking for a game.
Often, I'd find one. Just as often, I spent hours playing against myself by hitting the ball against the back of the gym's brick wall.
In high school, I tried out for and made the tennis team. My friend Jim taught me how to improve my serve to the point where I was a decent player.
But it was a 50¢ purchase my dad made at a yard sale that sent me into the one sport at which I became really good.
Bowling.
After I'd taken a couple of youth group trips to the bowling alley, I told my dad that I really liked the sport.
It wasn't football, so he didn't say much, but one day he came home with a bowling ball he'd found at a yard sale.
It even had a name engraved on it.
The name was Joyce.
I don't know if this was a message about what he thought about my choice of sports, or if 50¢ was just too good of a deal on a bowling ball for him to pass up (I suspect it was the former).
At least, I had my own bowling ball.
I joined a league. But before I could bowl each Monday, something had to happen.
The ball needed the three holes drilled bigger. Joyce obviously had much smaller fingers than I did.
The man at the bowling alley who drilled the holes for me asked, "Hey kid. I've got some heavier bowling balls for sale. Why don't you buy one of those and I'll drill it out to fit you?"
Turns out, Joyce weighed just 13 pounds. That was the weight of a woman's bowling ball.
He was telling me to buy a man's bowling ball.
"No, thank you," I responded.
I was sticking with Joyce.
The Monday night league at the bowling alley on State Line Avenue in Texarkana made Monday my favorite day of the week. I got better and better. My average hovered in the 170s.
When I went to college, they required four credits of physical education. Bowling was one of the options.
By the end of the semester, I won every trophy the class offered. My high game was a 282. A perfect game is 300.
I'd found another sport where I alone determined whether I won or lost.
Back problems now prevent me from playing tennis or bowling. But I still have Joyce. And I still have my trophies.
They are the only sports trophies I ever won.
Sometimes, you have to find your own path. It may be a path that isn't popular or mainstream.
But that's OK. I've never been mainstream. In anything, really. Different is good. I encourage different.
Find what you like. Find what you're good at. It's your own happiness that counts.
Joyce and I were lucky enough to find something that was right up our alley.
©2021 John Moore
(John Moore is a 1980 graduate of Ashdown High School who lived in Texarkana and worked at KTFS Radio during the 1980s. His books, "Write of Passage: A Southerner's View of Then and Now - Volumes I and II," are available on Amazon and on his website, TheCountryWriter.com. His weekly John G. Moore Podcast appears on Spotify and iTunes. You can email him through his website at TheCountryWriter.com.)