TEXARKANA, Texas -- Former Texarkana Mayor James Bramlett dished up bowls of beans and cornbread Thursday as part of a food drive for the Twin-Cities' Christmas Basket program.
The annual Bramlett Beans & Cornbread community fundraiser is now in its 23rd year.
It was held from 11 a.m. to 1 p.m. at the Texarkana Texas Convention Center near Central Mall. This was the first year for the event to be held at this location.
"It's going really well. I can't believe its been 23 years," Bramlett said. "I bet we've served 100 bowls already," he said shortly after 11 a.m.
For either a $5 contribution or a donation of six non-perishable food items, residents could dine on a helping of beans and cornbread, along with tea, coffee and dessert.
Bramlett said this volunteer effort to provide holiday food for Texarkana area citizens came in 1998 from Laurie Williams, a Texas-side Parks & Recreation Department employee at the time.
Since its inception, the fundraiser has been supported by both sides of Texarkana and Texarkana Water Utilities.
A number of police officers and city employees dined on the beans and cornbread. Volunteers including staff from Texarkana Emergency Center and Four States Living Magazine helped Bramlett serve.
Bramlett attributed the move to the convention center to a need for more parking spaces.
"It has really helped having the extra parking this year," he said.
Texas High School art students sold pottery at the lunch to raise money for charity.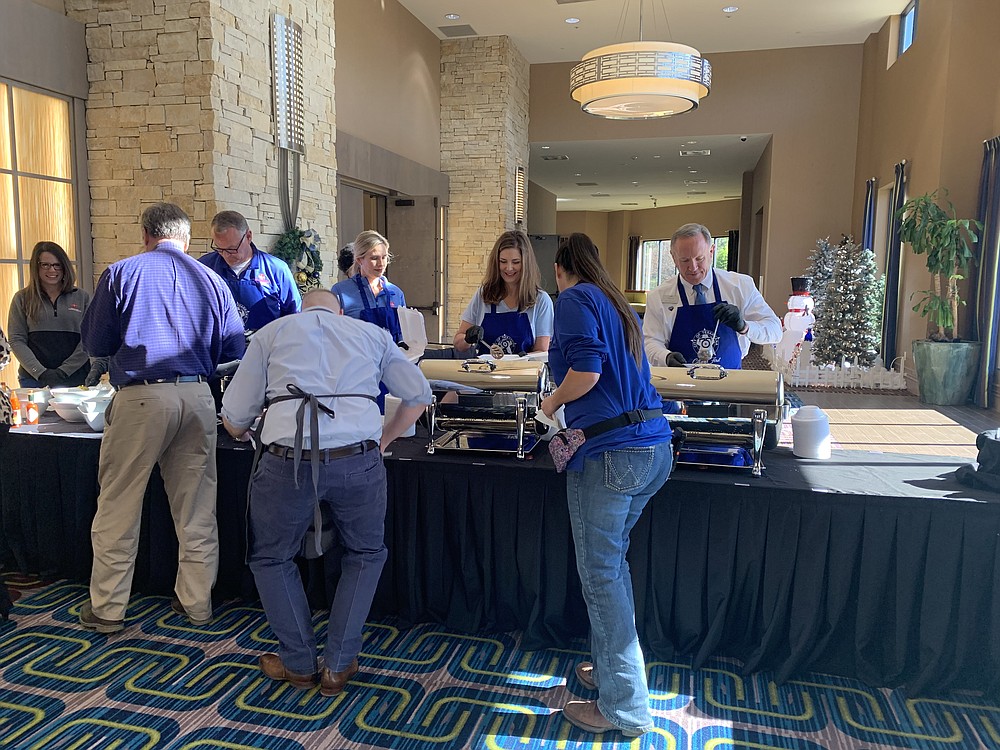 Former Texarkana Texas Mayor James Bramlett and other volunteers serve up beans and cornbread at his annual lunch. (Staff photo by Lori Dunn)