TEXARKANA, Texas -- "Sense & Sensibility," a Kate Hamill comedy based on the novel by Jane Austen, will be performed by Texarkana Repertory Company thespians this weekend and next.
The play follows the Dashwood sisters – sensible Elinor and not-so sensible Marianne – after their father's sudden death leaves them financially unstable and socially vulnerable. Set in late 1700s England, the act is humorous, bold and full of gossip.
Tex Rep Director Michael Cooper said the audience can expect a fun time while watching.
"The two major women characters in the play are represented by the title," Cooper said. "There's the one sister, Elinor, and she's sense. She wants to play by the rules and do things the way they're supposed to be done. And her sister Marianne is sensibility. She wants to follow her emotions and do whatever she wants. There are repercussions on both sides."
The play features 10 do-it-all actors with multiple character responsibilities, and it's all done on a rolling set. Every character doubles, except for the Dashwood sisters.
"(Jane Austen) has a sharp side to her," Cooper said. "It is a comedy, but you will feel for the characters because they go through some stuff. I think this playwright has really made the novel come to life. It's really just a lot of fun. If you know Jane Austen, you'll appreciate it from the beginning. And if you don't, you'll find out that you really actually do."
The "Sense & Sensibility" cast is as follows:
Lorie Jones -- Fanny Dashwood/Lucy Steele/Lady Middleton/Gossip
Nikita Isham -- Marianne Dashwood
Toni Henry -- Elinor Dashwood
Elizabeth Robertson -- Margaret Dashwood/Mrs. Ferras/Gossip
Noah Rathburn -- Mrs. Dashwood/Anne Steele/Gossip
Alan Harrel -- Colonel Brandon/Thomas/Lady Middleton/Gossip
Austin Alford -- Edward Ferrars/Robert Ferrars/Lady Middleton/Gossip
Culen McElhannon -- John Willoughby/John Dashwood/Gossip
Colin Perry -- Mrs. Jennings/Gossip
Gabe Lohse -- John Middleton/Doctor/Servant/Gossip
With intermission, the play is expected to be a little over two hours long.
Adult tickets are $15, while senior and student tickets are $12. TC students and staff tickets are $5.
(The play will be held at the Stilwell Theatre on the TC campus. Performances are Dec. 3-5 and 10-12, starting at 7:30 p.m. Fridays and Saturdays and 2 p.m. on Sundays. For more information or to purchase tickets, visit texrep.org.)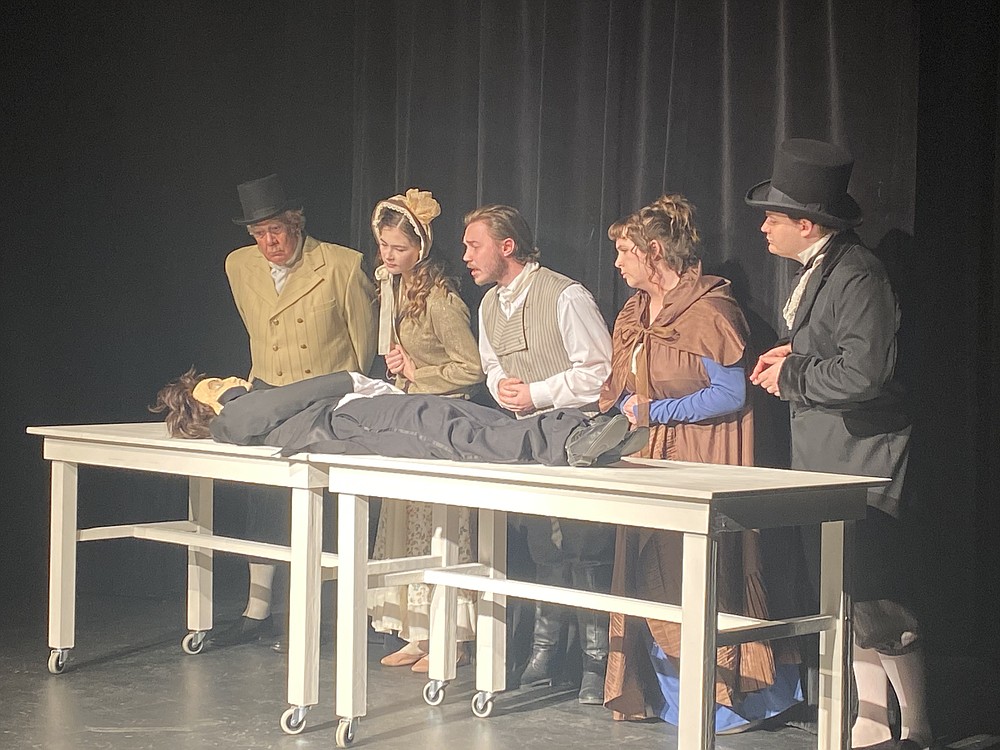 From left: Alan Harrel, Elizabeth Robertson, Gabe Lohse, Noah Rathburn, Colin Perry. (Staff Photo by Andrew Bell)