By Gretchen McKay
Pittsburgh Post-Gazette
Cookbook author, TV host and celebrity chef Lidia Bastianich is one of the most famous Italian cooks in the U.S. She's also a successful restaurateur, with eight restaurants specializing in Italian and Italian-American cuisine.
Yet when she prepares meals for her own family at home, she's like the rest of us: She likes to keep it simple, with straightforward, no-fuss recipes that don't require impeccable technique or fancy ingredients.
Take cannellini beans, for instance. Found in every classic minestrone and many Italian salads, the white kidney-shaped legume can also add an inexpensive punch of protein to a plate of greens or make a fish dish more substantial.
"They are perfectly good and delicious from the can," Bastianich says on a recent phone call from her home in New York.
Using food right from a can or box (such as oven-ready dried pasta) also streamlines the cooking process while eliminating the pot and pans that tend to pile up with scratch cooking.
Her latest cookbook, "Lidia's a Pot, a Pan, and a Bowl" (Knopf, $30), hit store shelves on Oct. 19. It has 100-plus homey and easy-to-prepare recipes that require fewer steps and ingredients than her previous tomes, but still deliver incredible Italian flavor. As she writes in the book's forward: "Sometimes, you just want to cook something that doesn't leave you with a pile of dishes."
While the theme of simplicity will likely resonate with home cooks who churned out three meals a day at the height of the pandemic, Bastianich actually started work on the cookbook before the coronavirus shutdown. But much of the testing with her daughter and co-author, Tanya Bastianich Manuali, and longtime PBS culinary producer Amy Stevenson was done during quarantine in her home in Queens, New York.
Beer-Braised Beef Short Ribs
This is one of Lidia Bastianich's favorite recipes in her new cookbook, "Lidia's a Pot, a Pan, and a Bowl." It combines beef short ribs, carrots and potatoes in a rich beer broth thickened with a pestata of almonds and dried porcini mushroom -- the perfect dish for a chilly fall evening.
Served with crusty bread and a green salad, this makes a hearty lunch or simple supper.
1/4 cup dried porcini mushrooms
1 cup slivered almonds, toasted
3 tablespoons extra-virgin olive oil
4 pounds bone-in beef short ribs
Kosher salt
Freshly ground black pepper
3 large carrots, cut into 1-inch chunks
2 tablespoons tomato paste
1 tablespoon chopped fresh thyme leaves
2 fresh bay leaves
12 ounces dark ale
6 cups chicken stock, homemade or low-sodium store-bought
3 medium onions, peeled and cut into 1-inch chunks
1 pound small red potatoes, halved
2 tablespoons chopped fresh Italian parsley
Combine porcini and almonds in the work bowl of a mini-food processor. Pulse to make an almost smooth pestata.
Heat olive oil in a large Dutch oven over medium heat. Season short ribs with 1 teaspoon salt and several grinds of pepper. Brown short ribs all over, removing them to a plate as they brown, about 5 minutes per batch.
Add carrots and toss to coat in the oil. Cook carrots until they begin to brown, 2-3 minutes, then make a space in the pan and add the tomato paste there. Cook and toast the tomato paste in that space until it darkens a shade or two, about 1 minute. Add thyme and bay leaves, and stir to combine.
Add pestata and stir to toast lightly, 1-2 minutes. Add beer, bring to a boil and cook until beer is reduced by half. Add back the short ribs and add 4 cups of stock. Adjust the heat so the liquid is simmering, set the lid ajar and simmer until the short ribs are almost tender, 60-75 minutes.
Add remaining 2 cups stock, onions and potatoes. Return to a simmer and cook until everything is very tender and the sauce is thick and flavorful, 40-50 minutes more. Stir in parsley, remove bay leaves and serve.
Serves 6.
-- "Lidia's A Pot, A Pan and A Bowl" by Lidia Matticchio Bastianich and Tanya Bastianich Manuali (Knopf, October 2021)
Skillet Lasagna
Everyone loves lasagna but a traditional recipe is tough to make on a weeknight. This skillet recipe comes together in about 45 minutes using oven-ready noodles.
For a heartier dish, Lidia suggests adding a few crumbled links of Italian sausage or browned mushrooms.
Extra-virgin olive oil, for coating skillet
3 1/4 cups marinara sauce, homemade or store-bought
1 cup fresh ricotta
1 cup shredded low-moisture mozzarella, divided
1/2 cup freshly grated Grana Padano
1 large egg, beaten
1/2 cup frozen baby peas
2 tablespoons chopped fresh Italian parsley
Kosher salt
Red pepper flakes
12 sheet no-boil (oven ready) lasagna
Heat a large nonstick skillet over medium heat. Add enough olive oil to make a thin film on the bottom of the skillet. Add 1 3/4 cups marinara with 1/4 cup water and bring to a simmer over medium heat.
In a bowl, combine ricotta, 1/2 cup mozzarella, 1/4 cup grated Grana Padano, egg, peas and parsley. Season with salt and a pinch of red pepper flakes, and mix well.
Layer three of the noodles in the skillet over the sauce. (I had to break the ends to fit.) Dollop 1/3 of the ricotta mixture on top of the pasta in the skillet, and spread it out to cover noodles; then drizzle with 1/4 cup of the tomato sauce. Make two more layers, ending with noodles. Drizzle with remaining 1 1/2 cups sauce. Top with the remaining 1/2 cup mozzarella and 1/4 cup grated cheese.
Cover skillet and simmer until pasta is al dente (test by piercing the center with a paring knife), 20-25 minutes.
Preheat broiler. Sprinkle remaining 1/4 cup grated cheese on top and broil the lasagna until the top is nicely browned, about 1 minute.
Let sit for 15 minutes before cutting and serving so the lasagna will settle and portions can be cut more easily.
Serves 4.
-- "Lidia's A Pot, A Pan and A Bowl" by Lidia Matticchio Bastianich and Tanya Bastianich Manuali (Knopf, October 2021)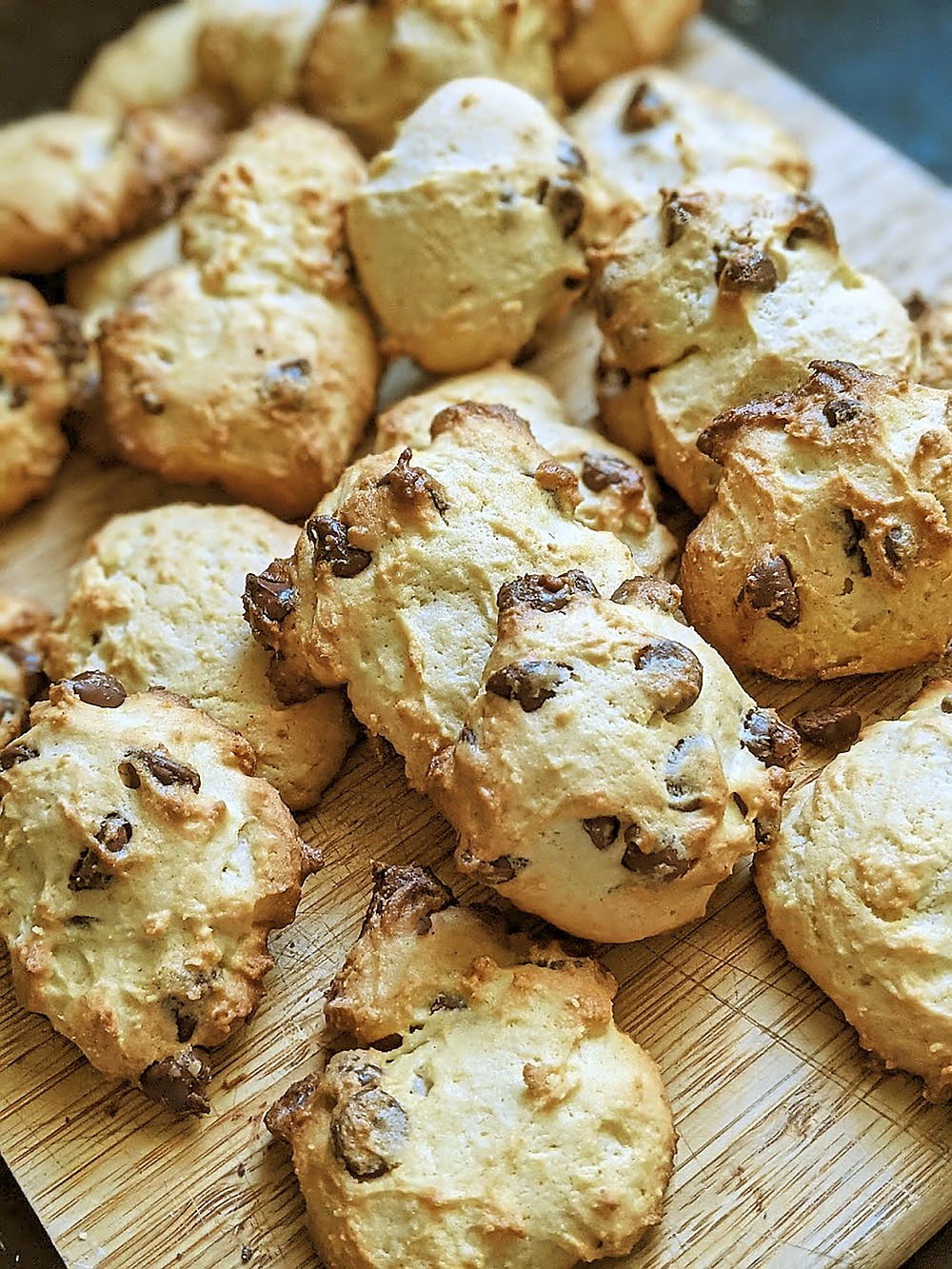 These cakey chocolate chip cookies from Lidia Bastianich's new cookbook have a secret ingredient -- they're made with ricotta cheese. (Gretchen McKay/Pittsburgh Post-Gazette/TNS)