Nadia Turner's hand-painted sign said it all -- "Free Clothes."
And, sure enough, on the grounds of the Linden Texana Bank parking lot Saturday, tables and racks of clothing and shoes were filled and ready to be picked up by anyone for any reason.
"Some of the items still had their price tags on them," said Dranae Berry, organizer of the unusual event. Berry had proposed to the Pleasant Hill Missionary Baptist Church several months ago that they have a free clothing celebration.
"We also wanted to give out the Christian message that we care for each other, especially during these hard times."
Young Dominic Wise was doing just that. He was running side-by-side with Nadia to hand out booklets with Christian messages in cartoon form also for the public.
"Our church members just started bringing items from their home and pretty soon our church tables were full, and we knew we were going to have plenty of items for the public."
Berry said she was surprised how many people showed up early at around 8 a.m. to select first.
"We had several who said they were homeless. They would carry out two or three sacks full of clothes. It was all a time of good feelings."
The Pleasant Hill Baptist church, which is northwest of Linden on County Road 1377, is also planning a free Thanksgiving dinner for the community.
"We'll send out a bus to bring in those who would share Thanksgiving with us," said church member Ether Blaylock. "They just need to contact us early, and we'll make arrangements. So come have Thanksgiving with us."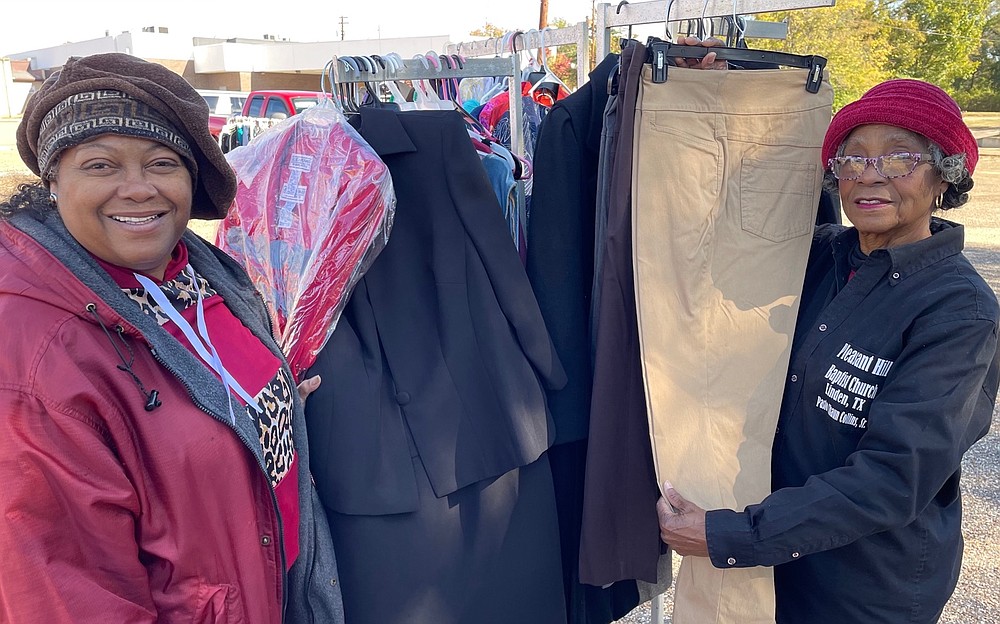 Dranae Berry, left, and Ether Blaylock are two members of the missionary society of the Pleasant Hill Missionary Baptist Church in Linden, both of whom helped organize a free clothing give away Saturday.