It's fall, y'all! Sorry for the groaner. I've been itching to say that all season long. You may have been sipping on pumpkin spice lattes since August. You may be ready to move on to eggnog and carols. But the school season has been so busy this year that I really only began to embrace autumn the week before Halloween. So I may have put away the black and orange, but in my heart I will cling to my favorite time of the year until Black Friday.
Harvest. Gather. Home.
These words dance along in my mind with the falling leaves on our bi-weekly treks through Old Texarkana. I thought I lived in Old Texarkana. But a couple of months ago I discovered a historical map hanging in the Orthodontist's office. (Dr. Shambarger, where did you get that thing?) To my surprise, my neighborhood wasn't on it. Just downtown and the very beginning of the tree named streets. That map made me realize how quickly our city grew up around the railroad and how many tales are tucked into the cross ties of the last 147 years.
Does everyone know about the new club in town? The Banana Club? A year ago my kids and I discovered an old stairwell below the art gallery. Barring the way was a chain and notice that said "closed for violation of the prohibition." At the bottom of the stairwell was an ornate door with a golden plaque reading "Banana Club." I have longed to see that place come back into existence, and now it has. How gratifying to see Old Texarkana resurrected!
I love this town!
But I haven't always felt so warm and fuzzy about Texarkana. I have to remember that when I tell people how glad I am to be back and they give me a funny look. T-town is my husband's birthplace. We moved here right after college, and at first this Little Rock girl was dubious. I wasted years looking down my nose at his streetcar city. It took moving away for grad school to see what a special scene we have here. That, and a ton of HGTV. There's nothing like watching other people nerd out about small towns to make a person nostalgic for their own. Marketing at its best, folks!
As Thanksgiving approaches, I find my mind lingering over the notes in my lifesong that I love best. Like so many, COVID threw my family for a loop. Now that we are no longer quite on lockdown, I'm humming a different tune than the one I expected. After so many months in Coronajail, I thought I would be itching to dance down the interstate, hop on a plane, or goodness! fly to the moon. But I'm not. Ragtime. Scott Joplin. Americana. Jazz. Those are the rhythms calling my feet to tap, because they are the sounds of home.
What makes a home? Is it lights, great restaurants, and hoppin' music? No! Those things make a great vacation. It's true that our town has some of that, and it's so exciting to see these elements grow. However, home happens with history. Family, friends, and neighbors. Shared meals, shared jokes, shared sorrow. And it's hard to know the basic pieces are even missing when the lights are bright enough, when the music is loud enough. But after the party? What's left? Without roots, the rest feels more hollow than a week old Jack o' lantern.
We moved home for our kids. We spent eight years away and moved back after my stepmom passed. We realized that our kids had 96 months of seeing her two weeks out of the year, but they could have had so much more. We didn't want that kind of regret with any more grandparents, so we packed our bags, sold our house, and headed South. The funny thing is, I thought I would be making a huge sacrifice.
"I don't like Texarkana," I told my oldest son (apparently repeatedly). But we got here, and either the town changed or my heart did. I still don't like Texarkana. I love it.
How did that happen? I was the president of the anywhere but Texarkana boogie woogie blues club. How does one change so much? Well, I found that I had two choices. We had decided for our family's sake that we're pretty much going to live here until we die (go big or go home, folks).
So, I could choose to be miserable for the rest of my life, or I could choose to start thinking about this spot on the map as my spot on the map. I could choose to love it, the way I love my husband and my kids, dirty laundry and all, or I could continue to look down my nose at it, the way someone else might look at my kids if I let them go too long without changing their socks. You know what? I decided to make Texarkana my family. I decided to delight in the things that are incredible about this place and be patient with the rest.
You may be thinking, "but this is not my home and I hate this stinky city." You may have moved here for work and your family is far away. Or maybe you have a rare illness that is only cured by humidity and harsh summers (that's a joke). You may be so homesick for your real home that, when you think of Texarkana, all you can do is wrinkle your nose.
I get it. And I'm sorry. But I learned a long time ago that life is largely what I choose to see in it, or even smell in it. For instance, nobody loves the aroma of paper mills, even though my dad says they smell like money. But, did you know that an evening stroll through historic Texarkana savors of citrus punch? I can't figure out what trees give off that fragrance, but it is heavenly, and when I think of my town, I now think of oranges and sparkling soda.
Flowers bloom earlier here than in Kentucky, where we moved from. My kids can wear shorts and skate and climb trees for more months of the year. The cost of living is lower than in bigger cities, and there are fewer luxury cars, which makes me more content with our choice to drive vehicles until they die. Pecan Point is my favorite restaurant, anywhere, ever. And I love my neighbors.
That's the beginning of my list. I add to it everyday. I love the renovation of the Grim Hotel. I love the downtown murals. I love my church. I love the fact that in Texarkana, crepe myrtles seem to bloom forever.
What's on your list? Is it the baby boutique downtown? Maybe the fact that we have some amazing local food venues; or even that the interstate gives us some nice chain joints. Do you even have a list? It's okay if you've never thought about it, but maybe start today. Put your neighbors on that list. Make your famous biscuits and gravy and invite them over for Sunday brunch.
You can't have a list at all without roots, and neighbors are a wonderful place to go if you want roots. Go ahead and put the sky on your list too, because big cities don't have stars the way we have them here. There's a reason the song says the stars at night are big and bright here in Texarkana.
It's November and I'm finding that happy is another word for thankful. I'm happy! So very happy to call this orange-scented city my home.
(Jo Murphy moved with her family to the historic Highland Park District in December of 2019. She loves laughing with her kids, doing life with her neighbors, and live music of all kinds.)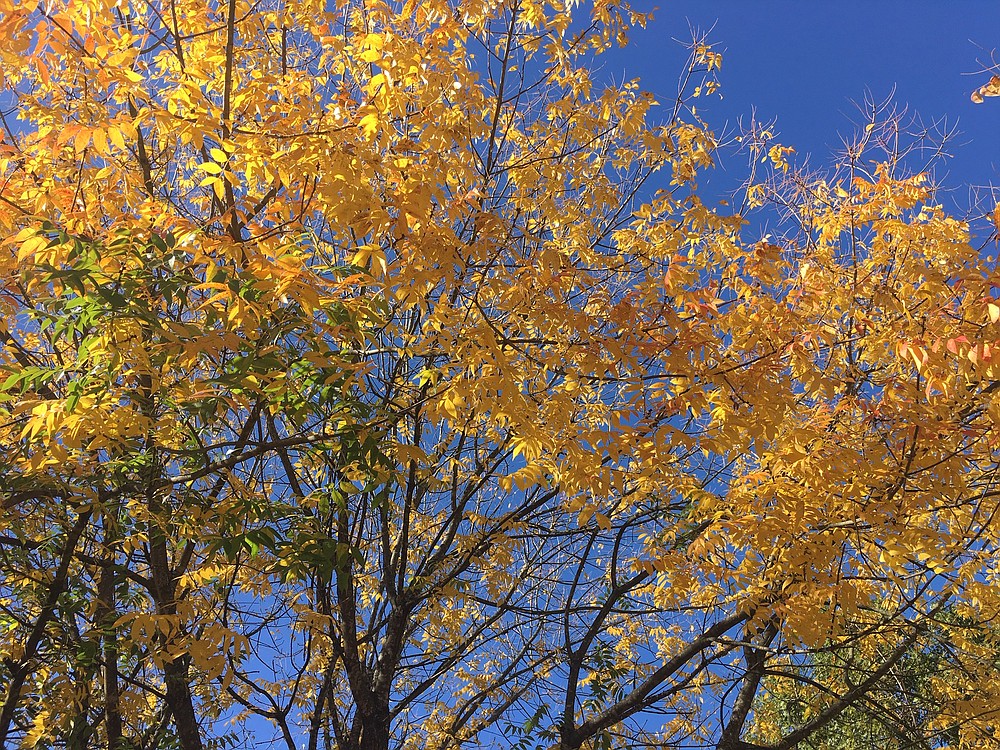 The signs of fall are starting to emerge in many old neighborhoods near downtown — a perfect time to enjoy the virtues of the season in all its manifestations. (Staff photo by Les Minor)
Much of downtown Texarkana has undergone serious renovations in the last few years, including the grand ol' Grim Hotel. (Staff photo by Les Minor)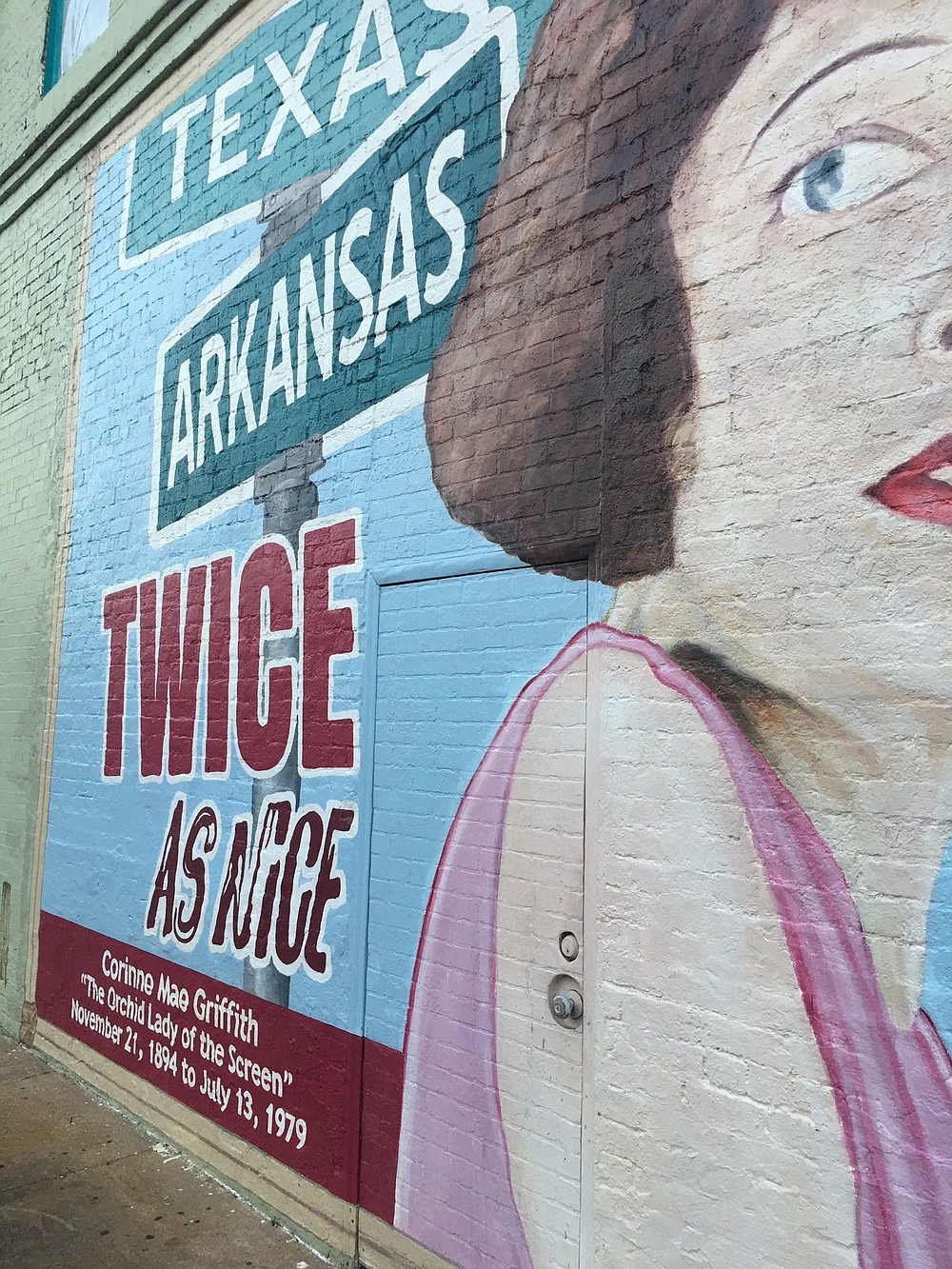 A portion a hand painted sign in Texarkana that celebrates the city, one of its favorite slogans and pays a bit of homage to the style of the Roaring '20s. (Staff photo by Les Minor)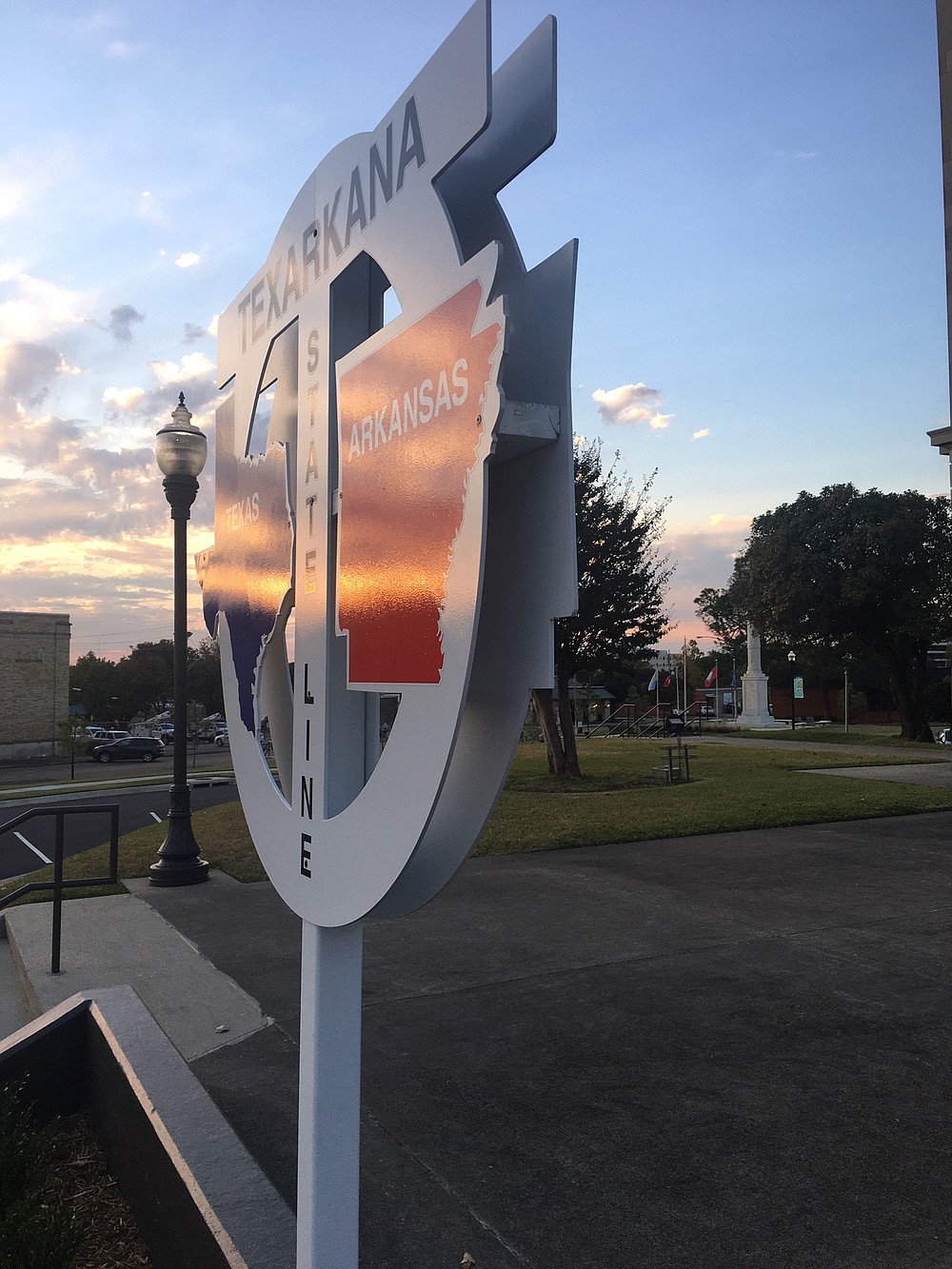 Evening light reflects of the well-know and iconic Photo Island emblem in front of the Federal Courthouse in downtown Texarkana. A walking trip though downtown turns up lots of treasures, some obvious, some not so much. (Staff photo by Les Minor)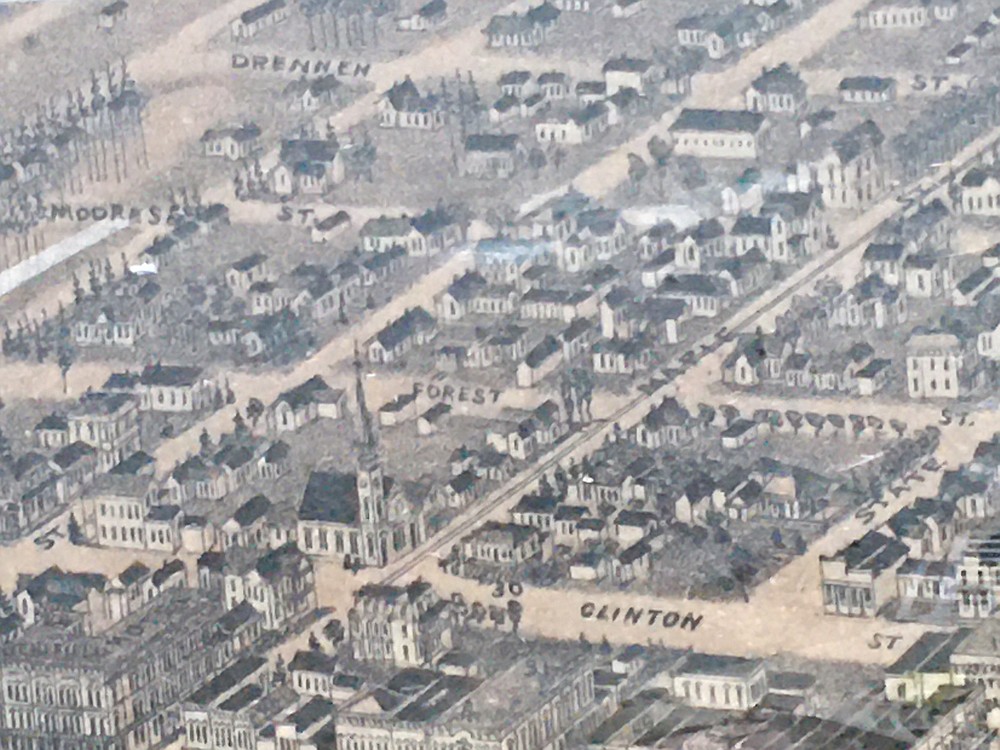 A section of an old map of Texarkana inside a display window on Broad Street in Texarkana. A lot of pieces of the past are coming together downtown. (Staff photo by Les Minor)