Shirley Sharpe Finn's first glimpse of Texarkana in 1963 left her in shock.
She and Edwin Finn, a Texarkana native, were married that September afternoon in an Episcopalian ceremony in Elizabeth City, North Carolina, her birthplace. (Ed had lingered in North Carolina following service in the Marines and had met Shirley.) That night they left by car for Texarkana, Arkansas, Ed's hometown, where she had never been. They were swapping racial change for what, to her, was the unknown.
In 1960 student sit-ins had transformed Greensboro, N.C., where she taught nursing at North Carolina Agricultural and Technical (A&T) College, into a model for racial integration. She and Ed had joined other adults to support the youths by marching and with financial assistance. Long-awaited change was sweeping the nation, documented daily by television news.
Immediately upon arrival at her new hometown, she realized that what she had been a part of in Greensboro hadn't reached Texarkana.
"Then we got to Arkansas, nothing was changed!" she remembered during three days of interviews in 2013. "There was not even any inkling of racial changing. I took one look at Texarkana and I thought, I have gone back to the Dark Ages! The signs were still up, at that time, saying Blacks and Whites at the fountain. It was like it's always been, the old South."
She had left a place where she felt victorious, vindicated, and proud. "And now I was back many, many notches. It was devastating," she said.
What she may not have realized in the moment was that she was already equipped with the kind of experience that would enable her to cope with whatever she encountered. She had proved herself not only in her native North Carolina but in an Evanston, Illinois, hospital where she had been the first Black nurse in an operating room.
Born Black and poor in the Great Depression in a one-parent family, she had worked her way through college by scrubbing floors in early mornings while other students still slept. She had taught nursing at A&T College. She had aided and abetted Black youths who had dared sit, and sit and sit, at White Only lunch counters, marching for them, helping pay their fines and bail. But in Texarkana she saw no signs of the change she had helped create.
Eventually Texarkana became her home and the center for her most productive and satisfying years.
The first of many
Her first professional test came soon after their arrival in Texarkana.
As they made plans before the wedding, neither had a job in Texarkana, but Shirley had applied for a nursing position at Wadley Hospital -- by mail, as was customary at the time. She'd presented her credentials: a bachelor's degree in nursing, nursing experience at Evanston, Illinois, hospital affiliated with Northwestern University, teaching nurses at A&T College, with special training gained at University of Pennsylvania Medical School, University of North Carolina at Chapel Hill, and Boston University. RNs were scarce. No mention of race. No phone calls.
"I showed up, with my credentials, and having already been hired, there was nothing they could do. And so I became the first Black RN at Wadley."
Though it didn't occur to her, it was another "first" for her in a string of firsts she had already accumulated. Two other Black RNs worked in Texarkana at the time, public health nurses, one on each side of town, neither hired by a hospital.
"Needless to say, nobody wanted me around. They didn't quite know how to handle it. So Mrs. Ida Eaves, who was director of nursing, hired me, not knowing who she was hiring. When I showed up, she realized she had a problem on her hands and there was nothing to do except to face the fact that I had been hired. She was going to find a place for me. So she put me on one of the floors. This was my first day."
She asked Shirley what service she preferred. Operating Room nurse, the new hire replied. Mrs. Eaves said, "Oh, no, surgeons would never allow that."
Shirley explained she had been a scrub nurse, that she knew instrumentation, anatomy, and how to predict the surgeon's needs. She worked at being good at her work, felt that she was.
The same morning Mrs. Eaves found her on the floor she'd assigned her. An emergency had arisen. An OR nurse was sick and unable to work.
"We're short of nurses," said Mrs. Eaves, "and we have a couple of surgical procedures that have to be done and we don't have enough staff to do that. Would you do it?'
"Just tell me where and when."
Mrs. Eaves, Shirley was to learn, was a strong director of nurses. Once she decided something was going to be done, it was going to happen. She was short of staff that day and had a person to do the job. Shirley was going to be in the operating room that morning, an OR she had never seen, with two different surgeons she'd never met.
The first surgeon was Dr. James B. Kittrell.
"That first day," she recalled, "I don't think he even said anything to me. He just stuck out his hand, ready to be handed the instrument, in the operating room.
"The procedure was a cholecystectomy, abdominal surgery. And he was surprised that I knew, and could predict, what his needs were. He didn't say anything to me about his surprise. But he just knew that I knew what I was doing.
"The second surgeon was Dr. Walter Barnes. When I walked into that operating room he asked my name, very courteous gentleman, and asked me where I was from. He knew I was not from Texarkana. I told him I was from North Carolina. That was like the rabbit in the briar patch, because he was a North Carolinian. He was happy to have me assist him. It was for a hernia repair. And he chatted the whole time. Just the two of us"–she laughed–"in the surgery, talking about North Carolina. He wanted to know how I showed up in Arkansas. Patient doesn't know what's going on!
"Well, he wanted my whole history. That was my introduction to Wadley Hospital.
"The staff was not pleased, to have me around, and they pretty much ignored me. They didn't call me a nigger. They were just unkind, and snappy."
That evening Shirley was to learn Dr. Kittrell's reaction to her work -- indirectly, hours later and not from him.
As Dr. Kittrell relaxed at home at the end of the day, he asked the Black maid to fix him a drink. When she brought it, he said, "Ruby, the damnedest thing happened today. I had a colored nurse in the operating room, and she was good! Her name is Shirley Finn. Do you know her?"
"No, sir," she said, searching her mind. Who was this mystery woman? Everyone in the community knew the Finn family. She decided that must be Mrs. Finn's new daughter-in-law that her son had married recently. Once she reached home, she checked with Mrs. Finn, who confirmed her guess. Abilene Finn told her son Edwin when he came in. Ed told Shirley when she reached home after work.
By morning the word had spread throughout the Black community.
The next day Shirley was on the floors. A few months later Mrs. Eaves assigned her back to the operating room.
It was the beginning of friendship with the two surgeons. Dr. Barnes would search her out in the hospital when he made rounds, so he could chat with his North Carolina friend. Dr. Kittrell also would seek her out as he made rounds.
In time she acquired a broad range of nursing experience in Texarkana. After two years at Wadley Hospital, she worked as a school nurse at Texarkana Independent School District and later as a public health nurse in Miller County.
At the college
Subsequently she was hired by Texarkana College's president, Dr. James W. Cady, as an assistant professor of nursing. She became the first Black faculty member at a time when laws were changing across America. Black faculty was needed.
Collegiality, however, was not automatic.
Faculty members weren't going to burn a cross, she realized, but they weren't going to be inclusive either. "They ignored me. A few would at least say hello. But I welcomed whatever recognition they gave. My nursing faculty ignored me, close up. It was probably 12 or 14 faculty members in that department.
"One person reached out to me: Elizabeth Willis. And I loved her immediately. We were close. Elizabeth treated me as a human being, not as 'that Black person.'"
Following Dr. Cady's retirement, Dr. Carl M. "Cheesey" Nelson succeeded him as president of the college. The nursing program was on a 12-month schedule. Subsequently the other nursing faculty members, without seeking Shirley's input, notified Nelson that they wanted to change to a nine-month schedule or they would quit en masse.
By this time Elizabeth Willis, her staunch friend, had retired.
Shirley fretted over the situation. Whatever the merits of the complaint, she hadn't been a part of it. She discussed it with her husband. Ed didn't think she needed to go along with a decision in which she'd had no voice. Dr. Nelson had perceived the uprising as a threat and had resisted. Shirley went to him and pointed out she hadn't been a part of the decision making. He asked her to start searching for new faculty, whether in Dallas or elsewhere and gave her a budget for it. She had connections in the Dallas area and began.
As she filled vacancies left by departing teachers, Dr. Nelson named her director of the nursing program -- she was the only one, not counting one part-time teacher, left of the nursing faculty following the mass resignations. Shirley also offered those members positions; some accepted.
Dr. Nelson reorganized the college into divisions, making Shirley head of the Health Occupations Division. She remained at Texarkana College until her retirement in 1995, as chair of the Health Occupations Division.
Memorable meeting
The summer of 1963 just before her marriage, Shirley visited her mother in Elizabeth City. A friend there told her, "We need to go to church tonight. Dr. Martin Luther King Jr. is going to be at Cornerstone Baptist Church." Shirley couldn't imagine Dr. King coming to little Elizabeth City. But, sure enough, he was there, with his entourage and all the preachers from the community. His magnetism impressed her.
"I felt like he was anointed. And, really, he was. At that time he was going around in small places, and you could see and feel it when he walked down the aisle. I really felt like I could reach out and touch him in this small country Baptist church. He was there. You knew it was beginning. I felt like I knew that man is really going to go really far. He was saying, you know, I might not be going to have a long life, but that doesn't matter. He probably said that everywhere. 'Cause he could foresee, as he said later, I may not make it to the mountain top."
That evening with Dr. King became a prologue to the years ahead. Despite her initial impressions of Texarkana, the spirit of Greensboro remained strong in Shirley's and Ed's psyches.
Testing the waters
Soon after President Lyndon B. Johnson signed the new civil rights act, Shirley and Ed followed their own path of activism. The events of one weekend suggest their commitment. A couple from St. Louis, in Texarkana for a visit, joined the Finns in testing several local businesses.
"It was almost on a spur of the moment that we decided we were going to integrate the restaurant, just the four of us," she said. "The Civil Rights Act had been signed by Lyndon Johnson and we were ready to start doing something about it."
They first went to the Coffee Cup. They arrived too late, just as it was closing. On to the Pancake House at Seventh and Hickory, where service was denied. They headed next to the Jefferson Coffee Shop. The manager informed them that a city ordinance prevented him from serving them.
The next day the visiting couple left for St. Louis and home. The husband said he was going to file a complaint. Would it be all right for him to mention Ed's name? Sure, Ed said.
The following Monday when he arrived at his parents' home where he and Shirley were living temporarily, Ed's mother told him the FBI had called, wanting to talk to him. He read an unspoken question in her eyes: What have you done?
He checked in with an FBI agent at the downtown federal courthouse and post office. He explained what had happened. The agent reported the incident to the Justice Department in Washington. A few days later, Ed received a letter signed by an assistant U.S. Attorney General stipulating that he was entitled to public accommodations under federal law and that it was illegal to refuse service. Armed with the letter, he and Shirley met no further resistance.
Coffee house culture
With the arrival of the Rev. David Stephens, a Congregational minister, and the establishment of fully-integrated Bethel Church, its Sixties-style coffee house provided a popular place for like-minded whites and Blacks to gather. Through the coffee house, the Finns added to their friends and allies.
Seeking a church home, Shirley and Ed visited Fr. Richard Allen, rector at St. James Episcopal Church. Shirley had been an Episcopalian since her youth in North Carolina.
"We told him I'm an Episcopalian," Shirley recalled, "and we're not trying to disrupt the community or anything. But we want to go to church."
The church had no black members.
Fr. Allen was delighted to have them but warned that many would not welcome them. He was right. Some left the church, others coolly ignored them, but some did welcome them. One of their most ardent supporters was Mrs. Katherine Temple, arguably the most prominent member, along with Wendell Blake and Bettis Lawrence. Charles and Judie Firmin became close friends.
"I sure could never forget Mrs. Temple, because she was the welcome mat at St. James."
Not this neighborhood
With a housing shortage, they'd moved in with Ed's parents. One day Shirley mentioned to Fr. Allen that they were looking for a place of their own. He immediately offered them the vacant garage apartment behind the rectory.
When Ed learned of it, he was less enthusiastic. The apartment was in the middle of an all-white neighborhood; he doubted all would open their arms to a Black couple in their midst. They moved in. All was serene–for a while. Then the word got out and spread.
By then Shirley was pregnant with their son. White neighbors complained, even threatened violence. Despair swiftly replaced euphoria. Under pressure from many in the white neighborhood, the church's vestry ordered Allen to evict them or leave himself. Fortunately, the couple found refuge in a new apartment development on the Texas side.
Acceptance came slowly. Ed was confirmed in the church. Young Michael was baptized. Eventually Shirley taught Sunday school, sponsored the youth group, and served as the first Black member of the vestry.
Meanwhile, in a world of change, Shirley not only worked tirelessly for improvement of nurse education in Texarkana, she pursued her own higher educational goals without interrupting her career. She already had a B.S. in Nursing from St. Augustine College in Raleigh, North Carolina, where she had also earned her Registered Nurse diploma at affiliated St. Agnes School of Nursing.
Throughout life her thirst for education had driven her to short courses in Chapel Hill, Philadelphia, and Boston. Once settled at Texarkana College, she set her sights on graduate work, acquiring a master's at Texas Woman's University and, finally, an Ed.D., or doctorate in education, through Nova University, based in Ft. Lauderdale, Florida, a pioneer in distance learning. Each step necessitated cooperation from the college, her family -- and a lot of coffee as she made time to study and attend classes.
Along the way she earned a long list of honors and recognitions, of which three stand out.
Particular honors
She served on the national board of the National League for Nursing, its members drawn from over the country and responsible for the development of nursing education
She and local dentist Dr. Denzer Burke became the first African-Americans named to the CHRISTUS St. Michael Hospital board.
The C. E. Palmer Award in 2007, of which she was the first Black female recipient, recognized her contributions to Texarkana, the culmination of her varied community service as well as her professional achievements.
"Shirley Finn was viewed as a nursing icon during her era on the CHRISTUS St Michael Board," Christopher Karam, CEO at the time, wrote from his present position in Alexandria, La. "To have her on our board, we felt very fortunate. In her quiet way, she could advocate for nursing. To have her objective nursing perspective on clinical issues during her time of service on the board was particularly helpful.
"I personally appreciated Shirley's wonderful spirit. Her caring nature was present in our many conversations and meetings. And of course, Ed, her husband, was always a joy to any gathering. As a couple, they were a wonderful role model of how to support an organization with CHRISTUS St. Michael's mission.
"As you can imagine, as the years pass, the memories fade. Yet, Shirley's presence and her love of nursing remain with me."
This year, eight years after her death, the City of Texarkana, Texas, declared October 13 as Dr. Shirley Finn Day, with a proclamation read by Mayor Bob Bruggeman. Texarkana College planted a tree in her honor and dedicated its Skilled Nursing Facility to her in an elaborate ceremony.
Her early years
Shirley Finn's life had the makings of a Horatio Alger novel.
Born in little Elizabeth City on North Carolina's East Coast in 1932, to an unmarried mother, Martha Forbes, Shirley was cared for by her grandparents. Her mother worked for Jewish families in New York City in order to earn enough to make ends meet for her daughter and aging parents. (Her grandparents had been born in the nineteenth century when slavery was still a fresh and painful memory for many.) In the Depression, even the New York-based income was barely sufficient.
"We were really, really poor. There were no social agencies at the time, so my grandparents and I lived in a small three-room house; you'd call it a shack. No electricity, no in-door plumbing. There was a toilet out back. And on the street where we lived, dusty, dusty, dusty road, unpaved. And segregated. We always had a small vegetable garden, but no cow. My mother and grandmother saw to it that I had milk to drink, from the white-owned store.
"My world was just my neighborhood, for about four blocks."
Yet her world was greater than she realized. There was the world of books.
"My earliest memory was sitting on the bed in the bedroom, where I slept, reading by a kerosene lamp," she said.
Her mother, an avid reader, brought her books from New York whenever she could.
"Mother would bring me all the Little Men and Little Women books by Louisa May Alcott. Those books I read over and over again. They were my friends, the stories about the March family. As I grew older, she would bring other kinds of books for me to read."
Her first-grade teacher, a Mrs. Collins, provided her first boost, selecting her for a school program, a kindness Shirley never forgot and a big event for Shirley and her family. A nurturer, Mrs. Collins passed the word: Shirley is smart, paving the way for her all the way through high school.
Throughout her life Shirley was to credit others for helping her each time she achieved anything significant.
Though she didn't know the details of racism, she knew there were places which she could see but did not dare go. Her life was restricted to tight boundaries. She overheard the adults talk about lynching of Black men.
Her grandfather worked in a sawmill, dangerous work; her grandmother, in the home and occasionally for Black professionals, usually schoolteachers.
When Shirley was six, her grandmother died. Her mother, finding a job locally, returned to care for her and her grandfather. Shirley gained first-hand inklings of the outside world from her mother, learning of Jewish food like matzoth balls and gefilte fish and other ways foreign to the little town of her birth.
As she grew older, she was allowed to visit her ever-absent father in Norfolk, Virginia, where she would go alone on a bus. Norfolk was a big city, compared to her ordinary environment. She cherished the visits even though she was hardly welcomed.
When she was 12, her mother let her take the bus to New York City, where Shirley stayed with her mother's friends and experienced what a really large city was like. Her mother could not afford fare for herself, so Shirley traveled alone -- in the back of the bus. She learned how to use the subway to navigate through the city. Her world was rapidly expanding.
In Elizabeth City there was one Black physician, one undertaker, and a Black nurse, Edna Few, who worked in the basement of the hospital with Black patients. Edna Few became a role model. Shirley wanted to be a nurse too. Her teachers at Pasquotank Training School encouraged her, kept reminding her she would go to college and be a nurse. When she graduated from high school, as its valedictorian, her teachers had found what essentially was a work-study program at St. Augustine, an Episcopalian college in Raleigh, North Carolina. For two years she scrubbed floors at five a.m., then happily found a job in the library -- "It was like heaven–in the library!."
When she graduated with a B.S. in Nursing and certified as an R.N., her professional life was beginning, and she was prepared and ready.
Epilogue
Almost everywhere she went thereafter, she faced hurdles, and she overcame them. Her life had taken on the words of the old hymn and civil rights slogan, We Shall Overcome, because she had, with the help of many. Texarkana, once representing the Dark Ages for her, had become her cherished home and the final resting place for her ashes in the St. James Episcopal columbarium after her unexpected death in 2013 in Cedar Hill, Texas, of an apparent cerebral aneurysm.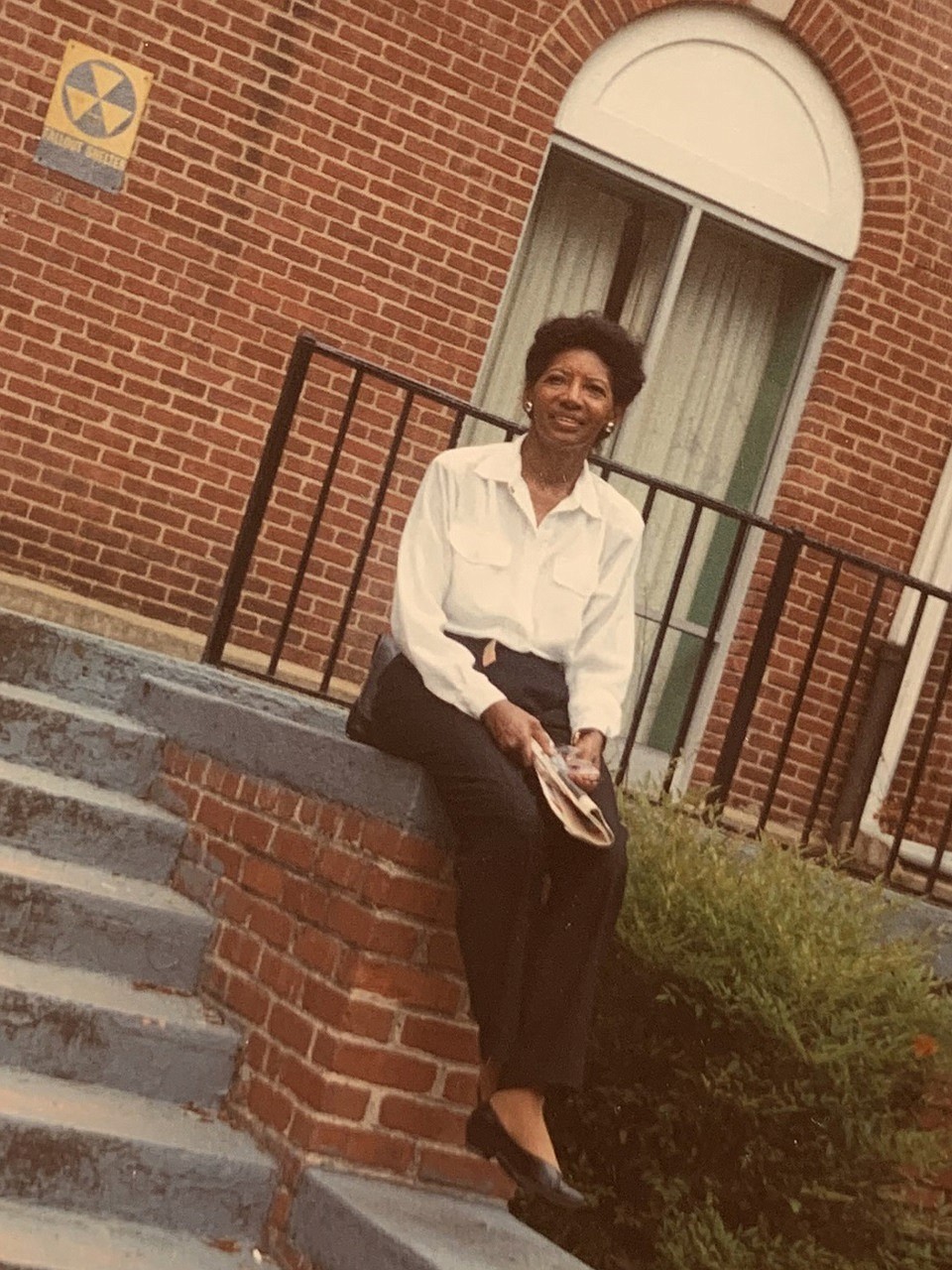 Dr. Shirley Finn (Photo courtesy of Suzy Irwin/TC)