TEXARKANA -- Pumpkin artisans got together Saturday at the Ace of Clubs House in downtown Texarkana to craft paper pumpkins. The participants bought a hardback book they intended to use for the project. The base would be the pages cut and the spine serving as the center support of the pumpkin.
After that, decoration was applied to taste.
"The theme and project we picked for this event was good for the season," said Kristina Ellis, museum assistant. "Also, we opted not to do it with real pumpkins, avoiding the expense and eventual rot. With your paper pumpkin, you have a project that can be enjoyed an entire lifetime."
For Amber Jacobs, she, like some of the other participants, saw this as a chance to revisit artistic inclinations she has not tapped into for awhile.
"I used skills like this in high school," she said. "I miss that. In addition, it keeps me busy. I lost my mother to COVID and this helps take my mind off that."
She also is a history fan, as well as a fan of this holiday season, especially Thanksgiving and Christmas.
"I enjoy stories of the first Thanksgiving in the Americas," she said. "The one shared by the American Indians and the original colonists."
Marie Bultemeier was there with her daughter Angela for some mother-daughter craft time. Angela was visiting from North Carolina, so they were spending a Saturday getting crafty.
"This is my first art event with the museums system," said Marie. "My daughter is the really crafty one, so I thought it would be fun."
"I don't normally get to fully exercise arts and crafts skills on the job," said Angela. "This is something I really needed to do."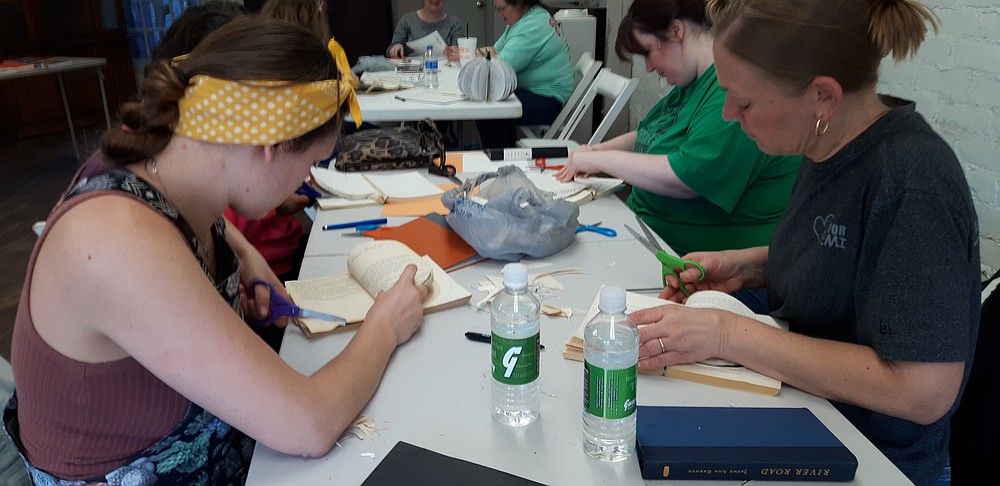 Marie Bultemeier, right, and her daughter, Angela, build their paper pumpkins. For the two, it was a mother-daughter weekend. Additionally, for Angela, it was an artistic outlet she does not get to experience on the job. (Staff photo by Junius Stone)