Water is beginning to show up at Linden's pond project as the first big step in improving the town's drainage problem. The project is being funded with a $2 million grant by the Texas General Land Office (GLO) and is expected to be complete by April.
The solution involves creating proper channels for rainwater coming from the town's center to run into a large holding pond. That pond is located behind the senior citizens center and will reach 2.5 acres in size and when full, it will be 22 feet deep at it lowest point.
An earthen dam stretching across the southern end has a culvert 4 feet in diameter and a spillway that will allow the proper and regular flow of water away from the town's business and residential areas. Thus, Linden's pond will retain the storm and creek water currently flowing southward
"By having such a pond, water gets off streets more quickly and with less depreciation of roads. It also improves public safety," said Lee Elliott, Linden city manager.
Work on the pond project also benefits the adjacent city park, which has been terraced to promote proper drainage, Elliott continued. The park and pond areas also contain a natural wetlands site. Together, the pond, park and wetlands can become a public asset to be developed for the benefit of citizens. Park policies will be established and volunteer groups encouraged to invest in the park, according to officials such as Michael Riley, park supervisor.
At least two aerators will be built to continually circulate the pond water. This motion will help keep mosquitoes in check and disallow stagnant areas to develop.
The purpose of GLO grants is to restore infrastructure for communities impacted by the floods of 2016. Such funds were awarded by the U.S. Department of Housing and Urban Development through the Community Development Block Grant Program.
When all is done, plans for the using the pond and park will be revitalized. A nine-basket disc golf course which had been an attraction will be revisited. Recent storms had destroyed many trees and made the present golf course unplayable.
A pond is beginning, and water is starting to gather along the drainage project ditch in south Linden close to the Senior Citizens Center. Looking south one can see the earthen dam with its culvert and its spillway to come, the purpose of which is to regulate the flow especially of storm water.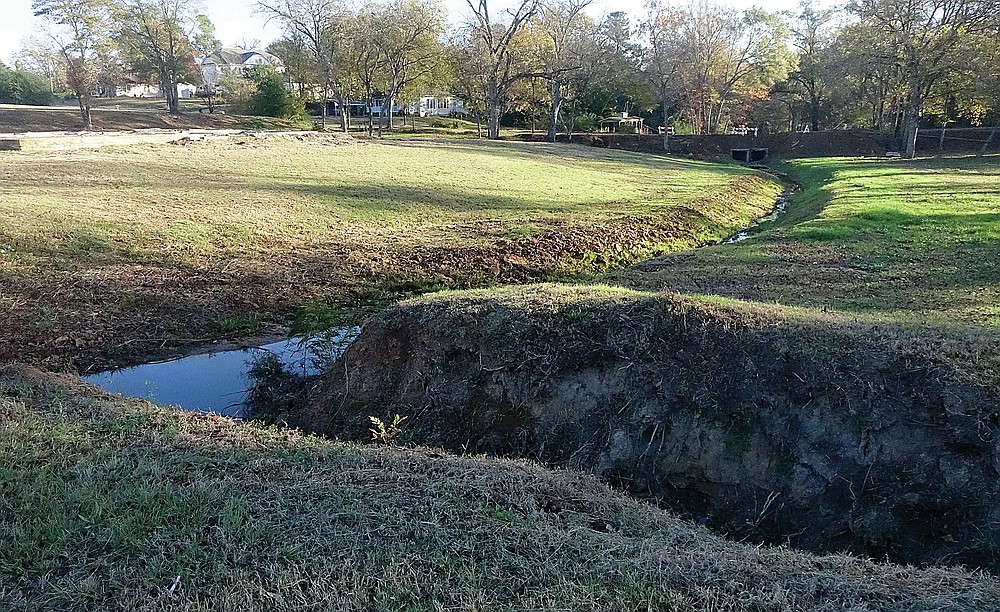 Just a block away from courthouse square and along West Main in Linden, a drainage ditch has been beautified, the slope at left has been sodded and, in the distance, a bridge and culvert is being completely rebuilt along Kaufman Street. The work is part of a drainage improvement project and opens the area up for public usage.