TEXARKANA -- This year's Black Friday was a day described by many merchants as "calm, cool, consistent."
Black Friday, the official kick-off of the holiday shopping season, is associated with mad, frantic dashes for deals on merchandise, with footage on television showing, at times, what looks like a football scrimmage, with crazed shoppers seeming going to blows over the hot items of the year.
Not this year, not in Texarkana.
Walmart, regarded as shopping central for many, saw a steady flow of customers throughout the day, which began at 5 a.m.
Guikima Walker, apparel associate for the Texarkana, Arkansas, Walmart, did not have the veneer of exhaustion many in positions like hers have after hours spent on the floor. She says, though the day was busy, it was not out of control.
"Since I got here, it has been crowded, full of people," she said. She reported to work at 1 p.m.
"It has been busy, maybe even busier than normal on a typical Black Friday," she said. "Last year's was not nearly this busy. But folks have been polite, well behaved. Also, no merchandise or stock issues. We were able to keep up."
At The Mustard Seed on Texas Boulevard, though this was the second Black Friday and holiday shopping season for Jeff and Melody Redell, this is actually the first one they experienced in the store.
"When we opened, the COVID lockdown came very shortly after that," Jeff Redell said. "We were open for the holiday shopping season, but Melody was diagnosed with cancer at that time. We had to step away and turn store operations and management over to our daughter, Darynn Gay. She did fantastically and is still involved in Mustard Seed management to this day. She just had Black Friday off to this day."
The Redells marveled at the steady, brisk flow of customers into their store, not only on this day but through the Thanksgiving season.
"We sell spices, tea, coffee and more," Melody Redell said. "Lots of things that make great gifts. And often, the gift receiver takes the gifts and makes something the giver gets to enjoy."
The Redells have seen a steady flow of their stock going out the door, but they promise they will be restocked for Small Business Saturday.
"We try to carry as much local merchandise as possible," said Jeff. "This being the spice market, needless to say, it is by necessity a global marketplace. But some of our stuff has a closer supply than you might think. For example, our olive oil? From a Texas grower and producer. They recently figured out how to grow olives in this state."
Abbey Road, an outlet specializing in smoking, vaping and hookah products on Arkansas Boulevard, had a relatively quiet day on Black Friday.
"We've only been open a few weeks," said manager Trevor T. "Most folks still don't know we are here yet."
But some have and word is slowly getting around, as smoke aficionados discover the quaint shop just down the walk from Old Tyme Burger Shop.
"The customers we have gotten today on Black Friday have tended to buy lots of stuff," he said.
The steady shopping pace was also reflected at Central Mall, as the parking lot was full of customer vehicles, but a shopper could find a space without too much trouble if they did not mind walking.
Texarkana author DC Gomez opened a pop-up shop just inside the West Entry, across from Taylor Dental. Her shop, just intended for Black Friday and Small Business Saturday, featured her books, merchandise highlighting her books, books from other authors from all over, and items from local artisans.
Sitting on a bench made by GKZ Designs, gesturing to a cutting board and wooden American flag made by the same, she said, "This is a collaboration with local artists, t-shirts, mugs, crafts, and of course, lots of books, from authors from all over, independent books you will not find at Books-A-Million. Books are great gifts, reading is a gateway to the imagination."
She remarks that though mall traffic has been steady and consistent, it is more sedate and less pressing than Black Fridays of the past.
"Many have been shopping online," she said. "Others have gotten their shopping done already," she said. "But the crowd is here, and has been polite and delightful. Texarkana shoppers are well-mannered, not rude at all. I've been in places that that cannot be said about them. But Texarkana, the shoppers are the nicest."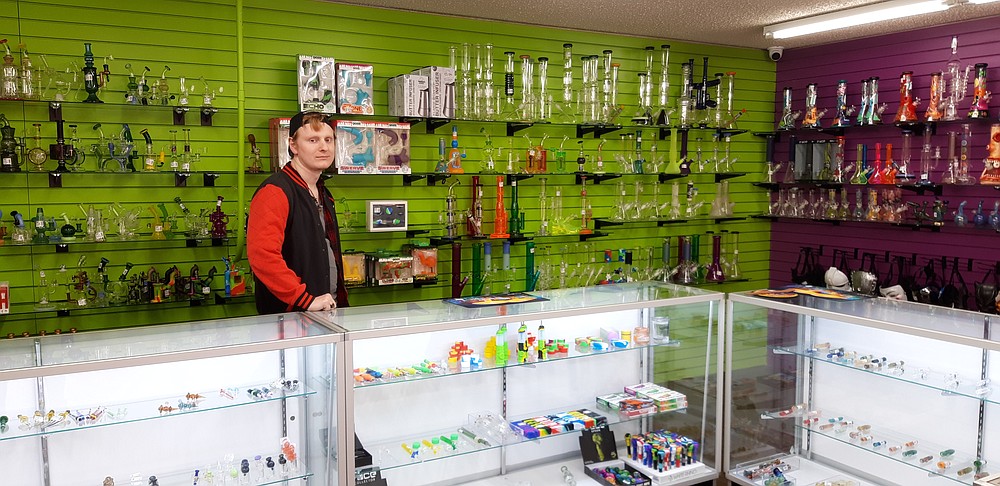 Trevor T., manager for Abbey Road, a new business specializing in smoking accessories, vaping, hookahs and more, shows off some of the merchandise. Being a new business and not being well-known, things were somewhat calm, though he says when shoppers did show, they tended to buy lots of stuff on Black Friday. (Staff photo by Junius Stone)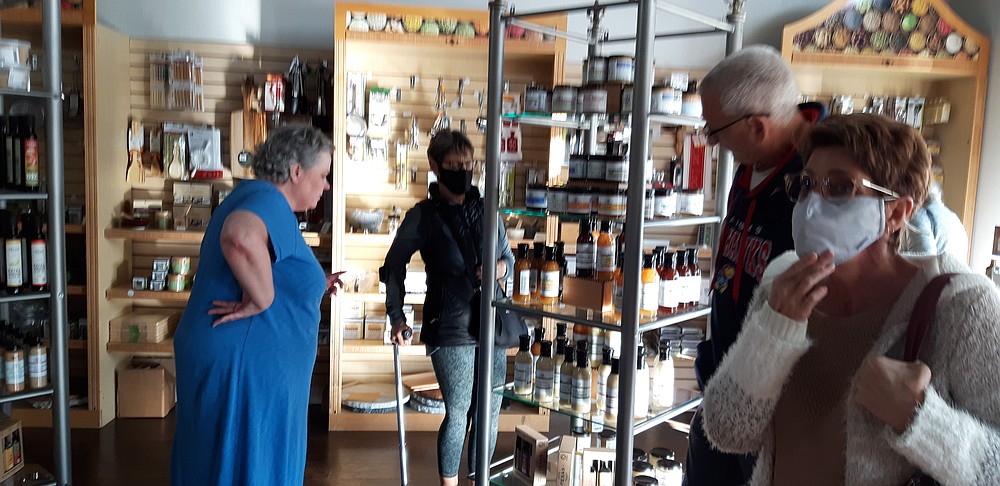 Melody Reddell, left, assists customers during Black Friday business at The Mustard Seed on Texas Boulevard. Their relatively young business experienced a heavy customer flow, due to kitchen activity going up during the holiday season. But they will be fully restocked for Small Business Saturday. (Staff photo by Junius Stone)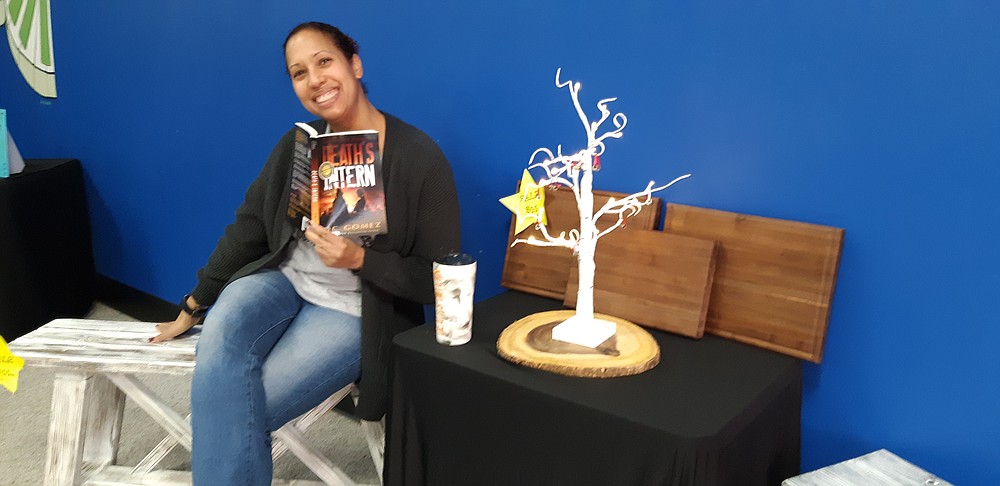 Texarkana author DC Gomez shows off some of her work as well as that of other local artisans. She set up a pop-up shop at Central Mall for both Black Friday and Small Business Saturday. The parking lot was full and mall traffic was steady, brisk, but not frantic. She described it as well-mannered and friendly. (Staff photo by Junius Stone)