TEXARKANA, Texas -- Texas A&M University-Texarkana will hold its fifth annual Eagle Wonderland event at the University Center building Saturday morning.
The event is free and open to the public, and will begin at 10 a.m. Eagle Wonderland will feature free pictures with Santa, holiday-themed crafts and more.
"We wanted to do this as an event that was geared towards the community and inviting kids out to campus to have some safe, holiday-themed fun," Director of Student Life Celeste McNiel said. "It's really cool to see how our students enjoy the event almost as much as the kids do."
TAMU-T students will get to take a break from finals week as they dress up as elves and reindeer and guide kids who are participating through the activities.
There will be a station where kids can write letters to Santa, and if you leave an address, Santa will actually write them back. There will also be a station where people can take a photo and print a ceramic photo ornament to take home.
There will be a "be an elf for a day" workshop where kids can craft items like t-shirts or stuffed animals to bring with them.
"We have students from all over the world," McNiel said. "We have students who have never really celebrated Christmas like we do in the states. So, even teaching their peers about holiday traditions and customs is pretty cool."
McNiel said this will be a bittersweet but heartfelt event without Chris Sinquefield, as he'd become a staple of TAMU-T's holiday season traditions.
Sinquefield, the former "Texarkana Toy Man," and former instructor at TAMU-T, passed away earlier this year. He had dressed up as Santa Claus for this event every year until now.
"This was his first Santa gig, our first Eagle Wonderland," she said. "So, this will be kind of a heartfelt thing for us."
This year, Steve Mitchell will take over Santa duties.
McNiel said students look forward to this event every year.
"Sometimes, we get students who participate in very few other things, yet they ask if we're doing Eagle Wonderland every year," she said.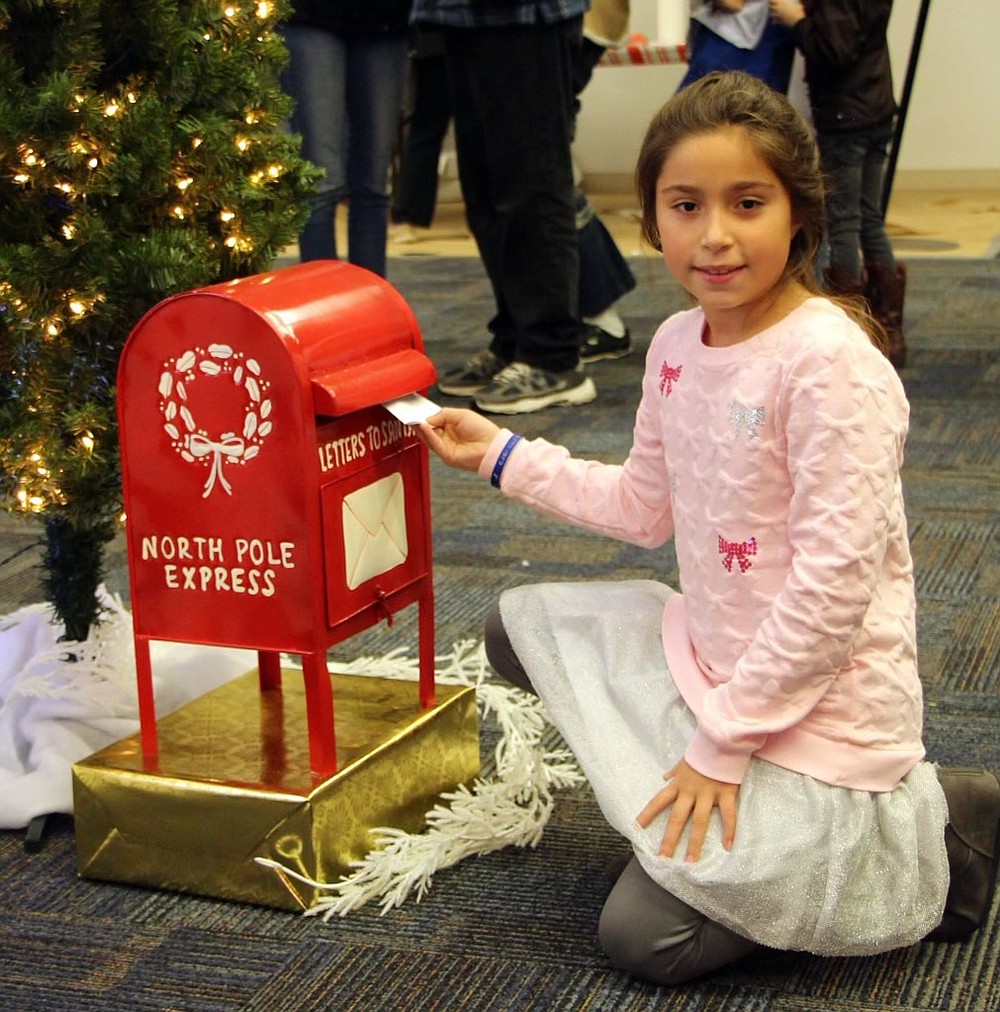 Mia Perri sends a letter to Santa at a past Eagle Wonderland event. (Photo courtesy of Dr. Tom Cutrer)