By Neil Abeles
Texarkana Gazette
In answer to last week's Where Is It? mystery:
Every firefighter wears a fire suit called bunker gear or a turnout coat. It gives the firefighter the capability of being pulled away from a fire if they are injured or incapacitated.
That capability is made possible by the Drag Rescue Device (DRD) which is built in to the uniform the fireman wears when near a real fire
Here's how it works.
First, the DRD is a harness between the layers of the turnout coat. That harness wraps under the shoulders and around the fireman. It goes from there to the back of the neck, where it can be grabbed by someone else.
Then, that person, using just one arm, can pull the firefighter who is lying flat on their back. The pulling will lift the upper part of the body, i.e., the head, back and shoulders, making the lighter weight to be in the legs.
Such a capability is not often use. One lifelong fireman in the Atlanta Fire Department said he had never needed or used the DRD.
Bunker gear has other features. It has two layers of protection, the vapor liner and outer shell. The firefighter's boots contain similar layers of material while the head is protected by a helmet, hood, visor and the mask of the air-pack being carried on the back.
All this keeps heat away from body.
"Not a bit of skin is exposed whatsoever," said Ricky Draper, assistant fire chief of the Atlanta Fire Department. "And the suit can be worn in hot weather since the heat of a fire is so much hotter. The gear is worn in the cold, too, and with its reflective stripes can make the fireman easier to be seen."
Such protection worn by firefighters may cost $3,000 a set and will have a useful life of 10 years. Any tear or rip must be repaired by a certified technician and every suit must be washed after a major fire in a certified laundry machine by a certified washer. The detergent is special, too.
"Trying to protect against carcinogens from the fire," Draper said.
Atlanta's fire department will be inspected by the state every two years. Its equipment must be up to date and effective. The department will need 14 fire suits because that's how many firefighters are employed.
But even volunteers will wear bunker gear if going near a fire.
The gear will protect against hazardous situations. The air under pressure in the backpack will last for 30 minutes, after which the gauge on chest will point and alarms will sound.
A lot of training is involved, Draper said. And so is a lot of care used to protect and keep the gear firefighters need.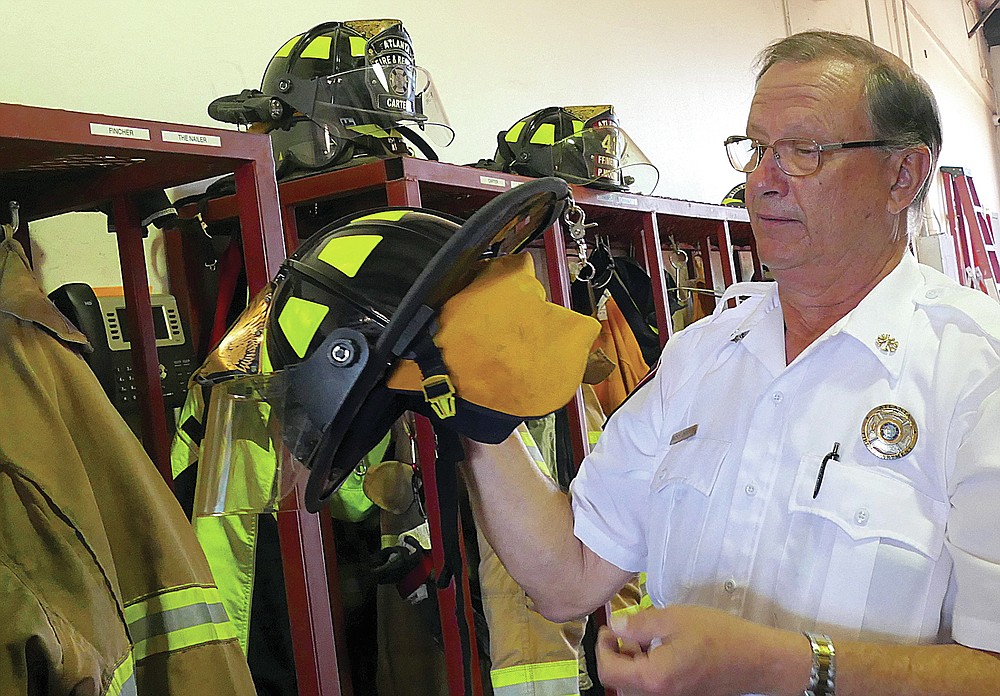 The very special helmets worn by firefighters cover so well that not an area of skin is exposed. (Staff photo by Neil Abeles)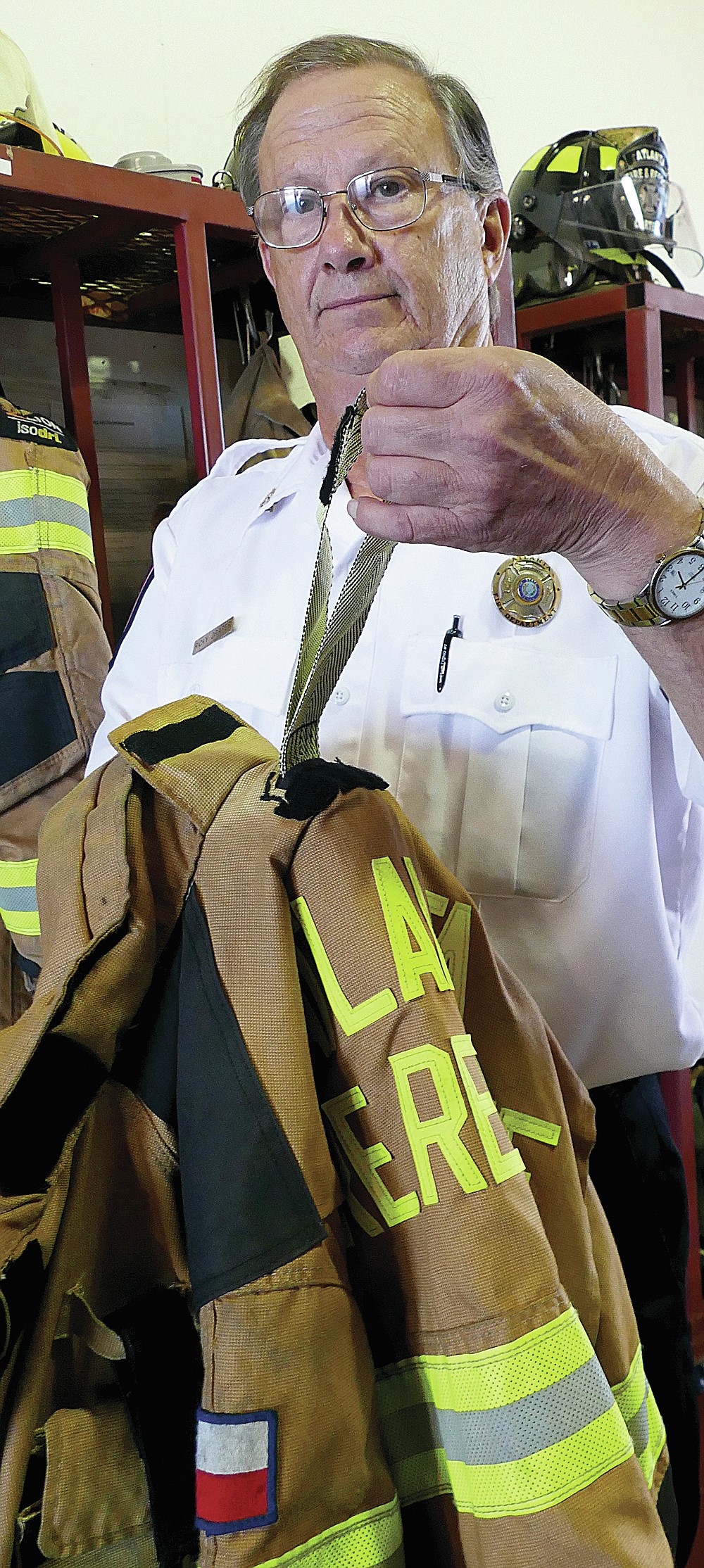 Ricky Draper, assistant chief of the Atlanta Fire Department, is holding the outer portion of the Drag Rescue Device harness coming out of the bunker gear jacket. This harness on the inside wraps around the fireman. (Staff photo by Neil Abeles)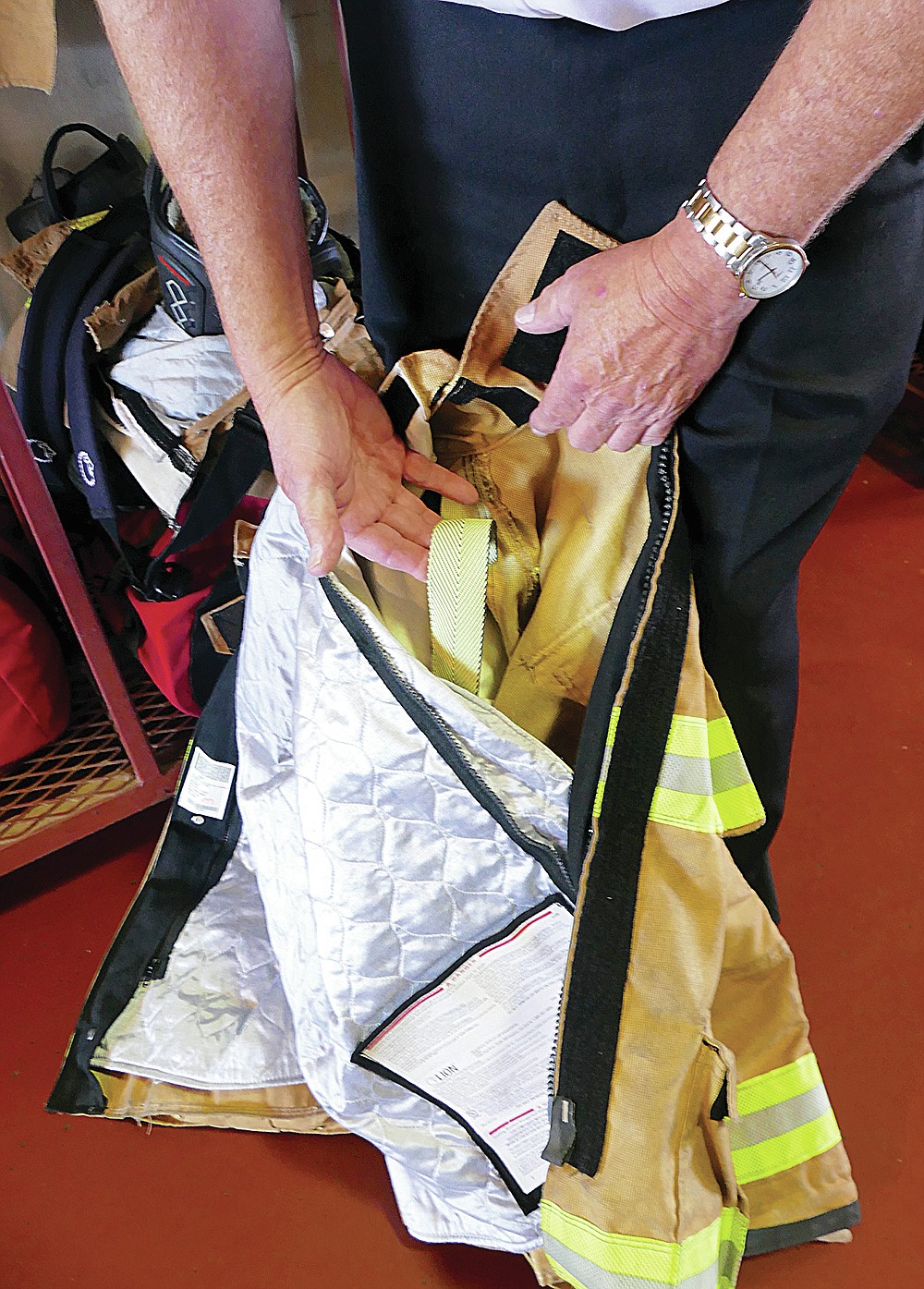 There are two layers of material inside a bunker gear jacket and the harness of the Drag Rescue Device is built in. (Staff photo by Neil Abeles)
A special machine, a special detergent and a person who is a certified washing specialist are required to wash the bunker gear of firemen after each exposure to a major interior fire. This machine is at the Atlanta Fire Department. (Staff photo by Neil Abeles)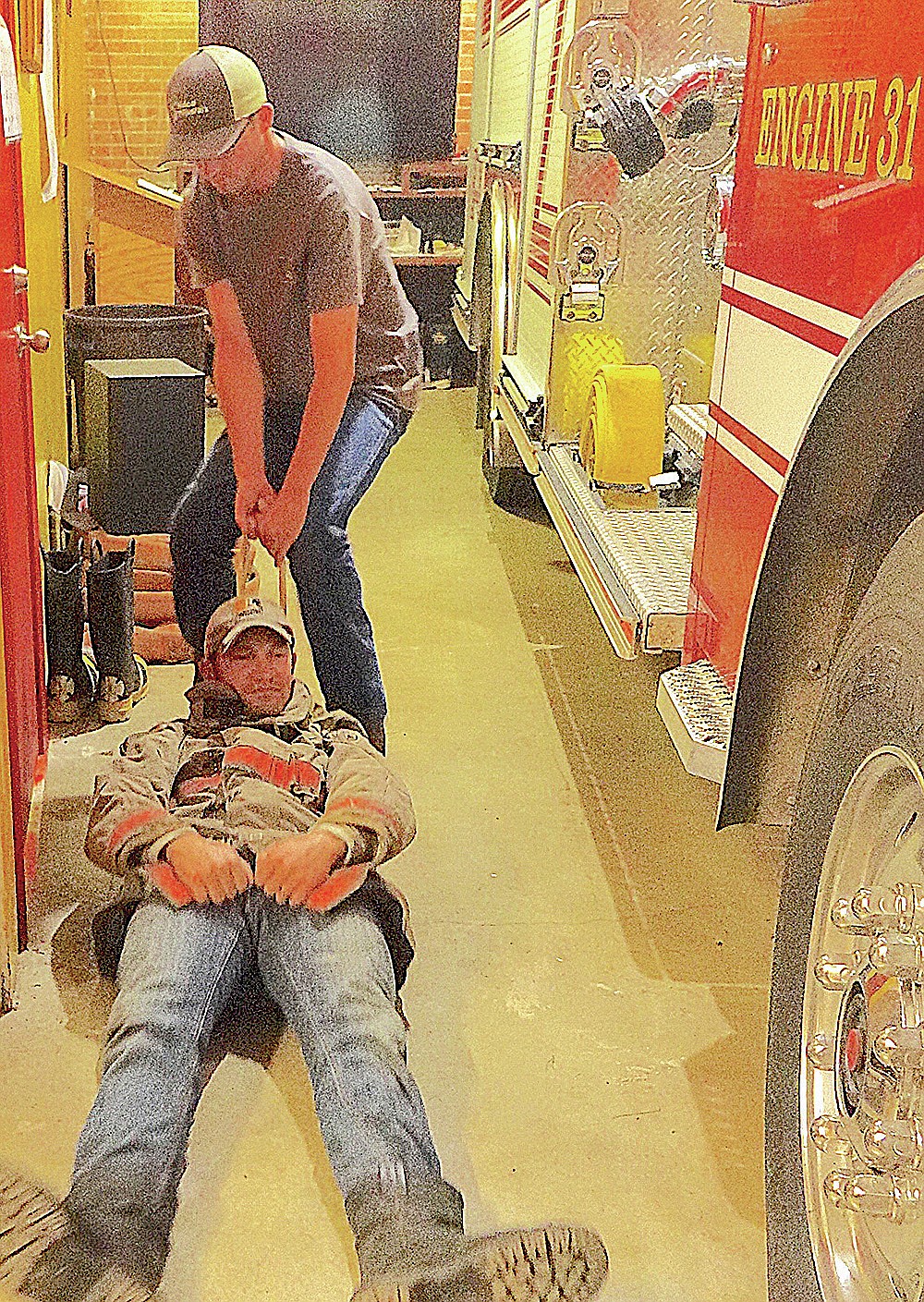 Johnathan Luzio and Robert Kenward of the Linden Volunteer Fire Department demonstrate how the Drag Rescue Device is used to pull a fireman away from a fire. (Staff photo by Neil Abeles)