TEXARKANA, Texas -- Spirits were flying high at Texarkana Radio Control Flying Club's 2021 Fly-In on Saturday.
The runway was cleared at Ravel Stroman field near Lake Wright Patman and flyers from the Four States Area joined the R/C pilots on Friday and Saturday.
The field, named after one of the founding members of the club, gives R/C pilots a place to enjoy camaraderie with fellow pilots. It is a point of pride for TRCFC, which was first established in the early '80s.
The club was established in 1972.
"The early '90s saw the construction of the first asphalt airfield here," said Corey Ashley, club vice-president. "We also put in the chain-link fence barrier and the parking lot around that time."
Over time, improvements were added, such as an improved, longer runway, shelters and other structures. Now, it is a small airport, providing a developed mini-arena and showcase for R/C flyers from all over.
The remote-control aircraft hobby is one that faces competition from high-tech distractions in the modern day.
"Sure, youngsters may get pulled in by the easy allure of computer screens," said Paco Ritter, club secretary. "But there is nothing that matches the allure of real-world flight. And given a chance, some youngsters do discover our hobby and want to try it. Though the upper end is expensive, with some dedicated fliers spending as much as $80,000 for their aircraft, the low end is much cheaper, with a kit costing $100 or less."
Also, the fliers coming to each other's events get to take in that joy of flight with R/C pilots from all over.
"I like traveling to the flying events all over," said Greg Skinner of Oscar, Oklahoma. "This is my fourth time at the Texarkana R/C Fly-In. This is a great bunch of guys. And I love this hobby. It's fun, good friends get together and enjoy a great hobby."
(Coming events: East Texas Aero Modelers Fall Fun Fly, Longview, Texas, 9 a.m. until dark Nov. 13., easttexasaeromodelers.com online; Texas Unlimited Fun Flyers Heritage Fly-In, Tyler, Texas, 9 a.m. until dark Oct. 16-17.)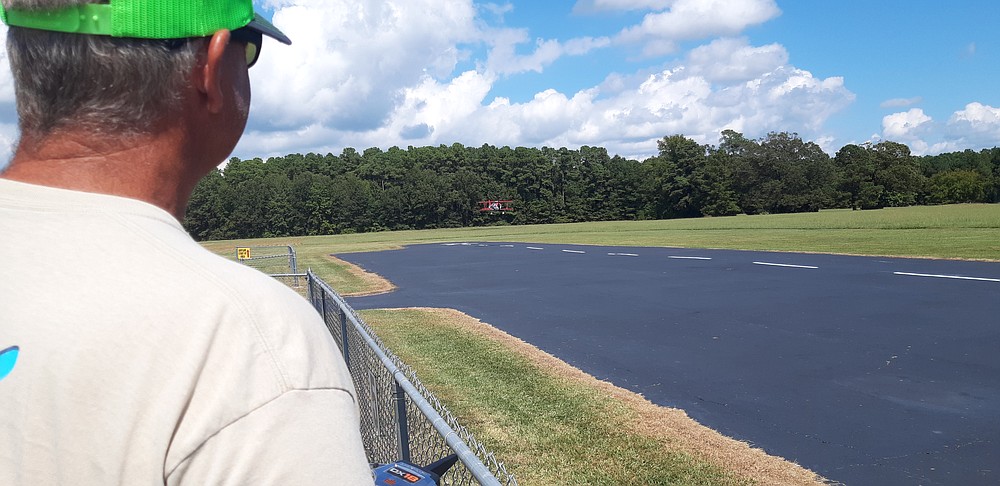 Greg Skinner of Oscar, Oklahoma, flies his Mamba 120, produced by Flex Innovations, during the 2021 Texarkana Radio Control Flying Club Fly-In at Ravel Stroman Field, Wright Patman Lake. The event brings flyers from across the region to meet others who love the hobby. (Staff photo by Junius Stone)