TEXARKANA, Texas -- Local chef Juan Bustamante put on an authentic display of Hispanic cuisine in front of Texarkana College Culinary Arts students on Monday as a part of the college's Hispanic Heritage Month activities.
TC has spent the month celebrating Hispanic Heritage with interactive events highlighting the stories of Hispanic Americans at the college, as well as culture and cuisine.
Bustamante is the owner of Juanito's, an authentic Mexican food truck, and is the former manager of Fuzzy's Taco Shop. A former student at TC, Bustamante told stories of his upbringing in Mexico and how he brought his cooking talents to the twin cities, while he showcased those talents for the students to see.
"I moved to the U.S. when I was 15, and I basically learned to cook on my own," he said. "It was either you don't eat, or you get in the kitchen and cook yourself."
The dishes Bustamante showed the students how to make included:
-- Al pastor (pork tacos)
-- Taco bistec (steak tacos)
-- Caldo de pollo (chicken soup)
-- Horchata (rice water)
Chad Moore, director of multimedia productions and services, videoed Bustamante's processes so the footage could be posted on TC's website and social media.
Bustamante said it was a pleasure to be able to give TC students a taste of international culture.
"Mexico is my country, so I really enjoy doing things like this where I can demonstrate to students like this and let them know that Mexico is known for more than a few things," he said. "This opens students' minds to all of the food items we have because Mexico has thousands and thousands of dishes that people don't know about."
He said not many people in the area that he asked knew about the al pastor taco, which is a spicy pork taco.
"If you go to Mexico City, that is the number one dish," Bustamante said.
At the end of each demonstration, the students and staff present had the pleasure of enjoying the tasty dishes.
"I'm hoping this educates the students a little more and urges them to try different things," Bustamante said. "You know, why not cook it at home now?"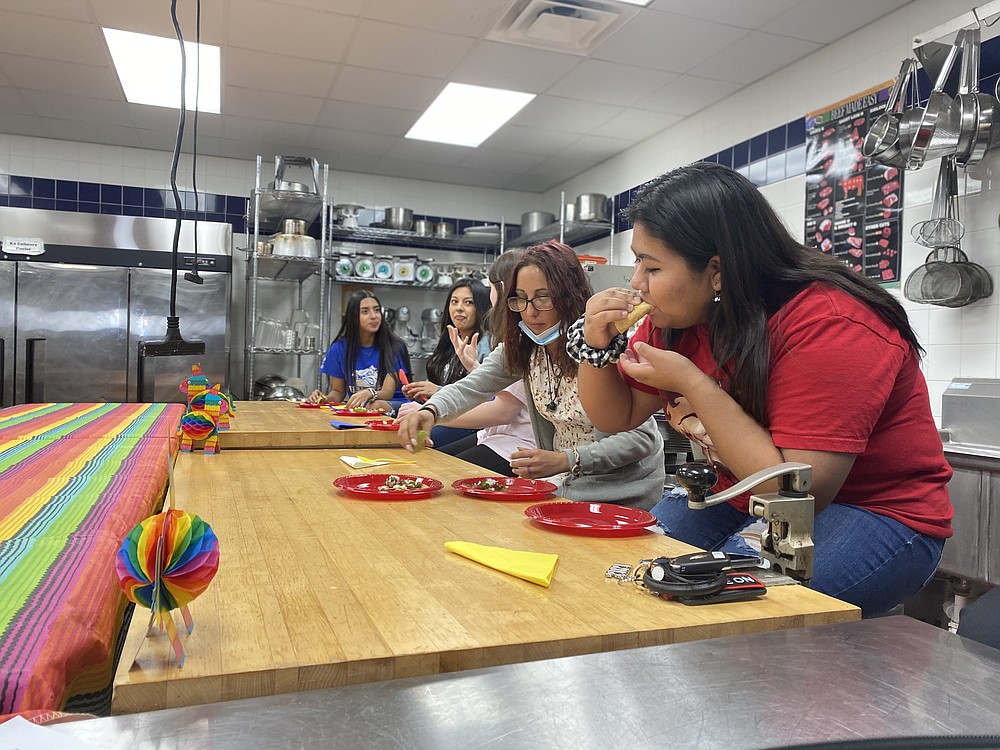 TC culinary arts students enjoy Juan Bustamante's al pastor tacos. (Staff photo by Andrew Bell)