Like most, my cancer journey came out of nowhere.
In February 2016, I scratched an itch under my left arm and felt a big lump.
I went to my doctor and he sent me for an ultrasound. A biopsy was done and cancer in my lymph nodes was confirmed.
However, it was not lymphoma, so for the next month I had numerous scans and tests trying to find where the cancer originated. Nothing else was ever found, so the doctors finally decided to treat it as breast cancer due to the proximity of the affected lymph nodes to the breast.
That month -- time that my husband, Tom, and I spent not knowing and wondering about the "what if's" was the toughest part of the journey.
I was referred to UAMS Cancer Institute in Little Rock and could not have asked for more caring and compassionate caregivers.
My doctors told me that with chemo, surgery and radiation my chances of survival were 95%.
My response? "I'll take those odds!" Finally, answers and a plan of action! Tom and I cried tears of happiness and relief all the way home.
So, treatment involved six months of chemo, a month off, surgery to remove the affected lymph nodes, a month off, then two months of radiation. I finished treatment a year after finding the lump. There were a few hiccups along the way, including a blood clot in the arm where my infusion port was located and a reaction to one of the chemo drugs.
But I still considered myself blessed. The whole experience was eye-opening. I expected my husband to be there for me, but I did not anticipate the amount of support I received from family, friends, co-workers and even complete strangers.
My opinion that the world is filled with good people was reaffirmed.
During my year of treatment, Tom had to retire because of his health. He had unknowingly developed a serious heart A-fib condition and one of the scans they did at that time showed he had kidney cancer.
Blessings come in all kinds of different packages! So he had a kidney removed at Baylor and a heart ablation done in Texarkana. We put a lot of miles on our vehicles that year!
These life-changing events made us realize how precious life is. Tom and I are closer than ever and recently celebrated our 40th wedding anniversary. We've learned what's important -- life and relationships. Everything else is just stuff.
I'd like to finish with a quote from Robin Williams that says it all. "Everyone you meet is fighting a battle you know nothing about. Be kind. Always."
--Denise Bolster, Special to the Gazette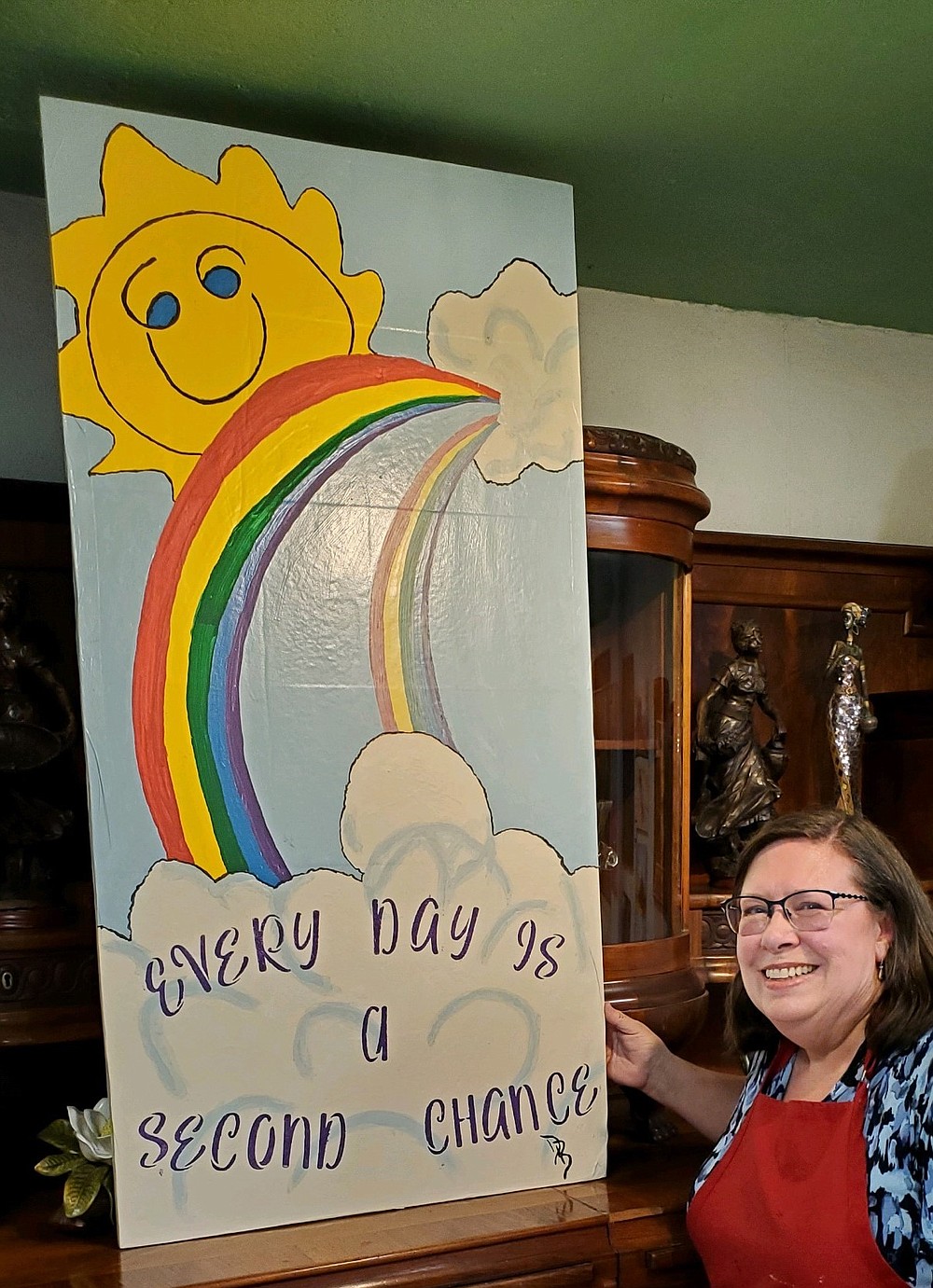 Submitted photo Denise Bolster, a local breast cancer survivor, stands near an inspirational painting with a creed she believes about life, Every day is a second chance.