By Junius Stone
Texarkana Gazette
TEXARKANA, Ark. -- Universal Vibe cast its particular magic upon downtown Texarkana on Saturday with an eclectic blend of vendors, food artisans, artists and performers. The festival, founded by Colton Foltz, is described as a "fun and safe environment filled with only good vibes." The festival started at noon and was scheduled to end at 10 pm with a fire dance.
Nikimbre Daniel, a merchant, had her products on display, featuring various natural items, such as incense, salts, vinegar and more. "I go walking in the woods, among the plants, and I bring back what they give to me," Daniel said of her business, Herbal Euphoria. She brings her products to local festivals.
Lee Ann Goldman, a massage therapist and reiki practitioner, introduced attendees to "sound baths."
"Basically, your body has frequencies, such as your heartbeat, pulse, lymph pathways, cerebral and spinal," she said. "It is also constantly bombarded by electromagnetic frequencies from outside. This can leave a person feeling scattered. High frequency exposure of sound, for a certain amount of time, can sooth, help bring a person into alignment."
Chris Thomas, a local pottery artist, had her wares on display.
She brings her creations to various local shows, and this is her first Universal Vibe.
"I've been doing pottery for 11 years," she said. "In my home studio, creating my works, it is a relaxing and soothing kind of environment. Sitting in the sunlight, relaxing with my cats, it is a peaceful way to spend the day. I really needed to do this, as when my father went into hospice, it became clear this life is not a dress rehearsal."
This will not be her last Universal Vibe, as Thomas plans to return next year.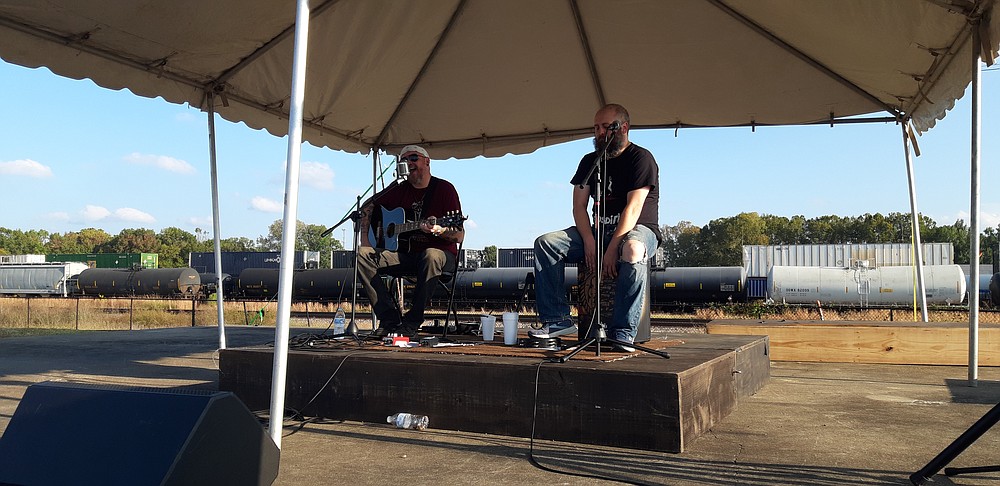 Devil's Doorbell, one of several music, entertains the crowd at Saturday's Universal Vibe. Staff photo by Junius Stone