TEXARKANA, Ark. -- After more than two hours of talking to a woman threatening to jump from an overpass, emergency responders on Wednesday rescued her and took her into custody, apparently unharmed.
Manning the end of a fire engine ladder extended to the woman, Texarkana Texas Fire Department Capt. Lucas Shelton managed to grab her and hold on despite her struggling, ending the incident that began shortly before 9 a.m. on the U.S. Highway 71 overpass above East Broad Street.
A Texarkana Arkansas Police Department spokesperson identified the woman as Paige Tower, 35, of Texarkana, Arkansas. She was transported to a local hospital for evaluation and then booked into the Miller County jail. She will be criminally charged.
Tower stood on the concrete barrier wall of the overpass, outside a metal fence to which she clung as she moved back and forth and spoke to police negotiators on the other side of the fence.
At the beginning of the incident, a Texarkana Arkansas Fire Department engine's ladder was extended to the overpass and firefighters waited to help Tower down. TAPD, Arkansas State Police and Lifenet emergency medical personnel also responded. TAPD Chief Kristi Bennett was on the scene much of the time.
As negotiators were unable to convince Tower to come down, a city crew brought in and inflated a children's bounce castle beneath the overpass as a makeshift cushion should she jump or fall.
TAPD Cpl. Les Munn, on the scene in uniform, was overheard directing the crew to pick up the bounce castle from behind Crossties, an event venue a few blocks away on East Broad Street that he co-owns.
As the castle was inflated using portable air compressors, the TTFD truck arrived and extended a second ladder on the opposite side of Tower. As she moved first toward one ladder and then the other, a crew on the ground moved the bounce castle back and forth to keep it beneath her.
When Tower got close, Shelton grabbed the rear waistband of her pants, pulled her toward him, and then wrapped his arms around her waist and held on as she kicked and struggled and the ladder was quickly lowered onto the bounce castle. Arkansas-side police handcuffed her and she was placed in the back seat of a patrol vehicle and driven away.
When it became clear the woman would be safe, one of about 20 people who had gathered to watch the incident play out shouted, "Thank you, Lord!"
"You matter!" the same onlooker shouted to the woman as she was placed into the police car.
"Not this bad," Shelton said when asked if he had ever encountered a similar situation. "Without a doubt, a happy ending."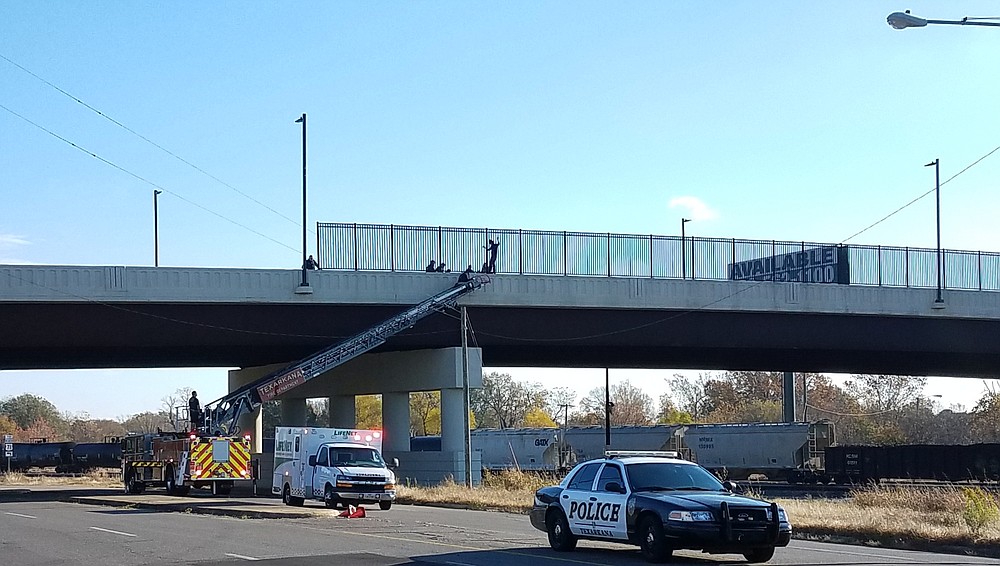 A woman stands on the edge of an overpass as police negotiators try to talk her down and other emergency responders stand by Wednesday at East Broad Street and U.S. Hwy. 71. The incident ended after more than two hours when a firefighter grabbed the woman and she was lowered to the ground apparently unharmed. (Staff photo by Karl Richter)