TEXARKANA, Texas -- Hours of work and decades of tradition were on display at Thursday evening's turkey dinner put on by Hardy Memorial Methodist Church. This tradition, conducted in early November, kicks off the Thanksgiving season for the church. Thanksgiving comes at the end of the month, concedes James Syler, parishioner and cook, but he says there is a method to the T-day-esque madness.
"Towards the end of the month, all kinds of churches and organizations are having dinners like this," Syler said. "Also, late in the month, people are starting to leave for holiday vacations. So we have ours earlier, to let everyone have a chance at this dinner and fellowship."
This year, the kitchen crew of Hardy Memorial pulled off quite a feat of a feast.
"We have 600 lbs of turkey, 32 small pans and 27 large pans of stuffing, 32 No. 10 cans of green beans, 10 gallons of gravy and more for tonight's dinner," Syler said. "We are using recipes that have been a tradition with this church for at least 40 years and doing this dinner for the last 75 years. The recipes and methods, all original."
Sue Jones, part of the kitchen crew, echoed the sentiment.
"I've been doing this 75 years," she said. "It is all about community, tradition, these recipes, this dinner."
Carlos Harvey, a retiree and parishioner with the church for 80 years, helps out in the kitchen, both with meal preparation and maintenance of equipment.
"I worked with this kind of equipment in my career," he said. "Nothing that complicated, but I can help out with simple repairs. We had one such today, got it squared away. I volunteer for several organizations around town, including my church. I have the time and I just like being useful. Serving your church is important."
Pastor Patrick Evans, pastor of Hardy Memorial for six years, seems overwhelmed and humbled by the huge amount of tradition surrounding him.
"This has been going on awhile, but I tell you, its wonderful," he said. "It is fun to be a part of something like this. We help fund missions with the proceeds. It is just a good time of fellowship during the holidays."
The funds from both the dinner and the sweet shop will help fund United Methodist Women's activities as well as mission efforts.
(Hardy Memorial Methodist Church is located at 6203 N. Kings Highway, Nash, Texas.)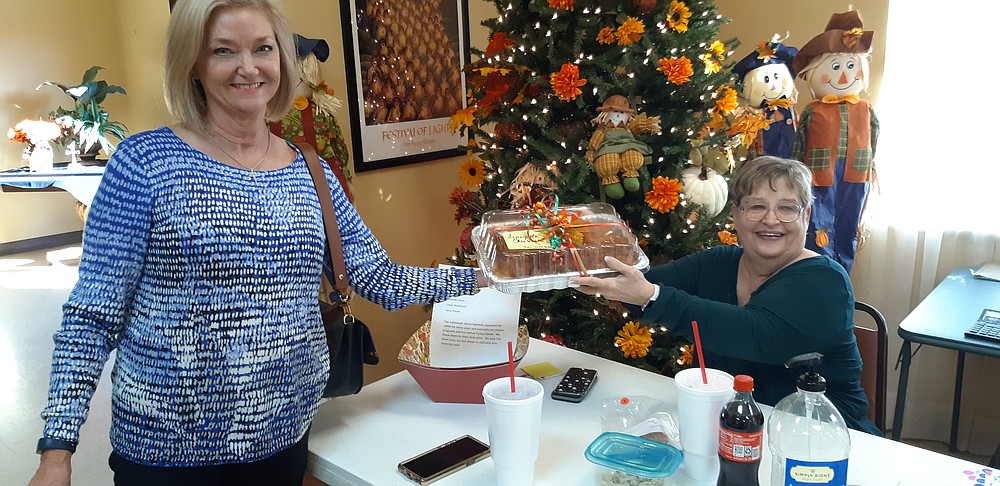 Sarah Webber delivers a sopapilla cheesecake to the sweet shop Thursday at Hardy United Memorial Church, which Jennifer Black accepts. Funds from both the sweet shop and the turkey dinner will go to support United Methodist Women and mission efforts. (Staff photo by Junius Stone)