The Emergency Services District 2 has a feather in its cap. Actually, it's a siren in its steeple.
The red 70-year-0ld unit which was at Maud works once again, and this is the funny part, you don't want to be around when it goes off. It could make you hard of hearing.
It will go off, however, for approaching tornadoes. There's another siren at the Queen City Police Office which will go first. Then, Big Red.
Volunteer firemen of ESD 2 have garnered and installed the siren high on its tower and even lighted it at night. A bright new red and white aluminum sign at its feet says, "Cass County District 1 Emergency Services"
The siren is a project of the volunteers. Some $1,700 was raised to repair and renovate the frozen machine sitting abandoned in Maud. Once, from 1952 to 1987, it sounded. Then, for 30 years, it didn't. In all the snow, ice and rain, it didn't move.
Once the idea dawned that a siren could highlight the history and importance of volunteer fire men and women, the game was on.
By 2018, ESD volunteers had completed a lot of renovation projects at the station. The cadets needed a project, too, so Gene Weerts and Eric White went over to the Maud people and asked for their siren.
"Get it down, clean up the grounds and space around, and you can have it," they were told.
The old former Maud fire station now looks like a garden, folks say, and last Saturday, ESD 2 volunteers with help from Joyce Crane and Hill Electric, raised and set the several-hundred-pound siren.
It may be turned on, volunteers say, daily or weekly at a certain time. That used to be 6 p.m. in Maud while Red Lick blows theirs every Wednesday at noon. Once again, no one wants to be around. Just listen to it.
Richmond White, who has a very special interest in the siren, likes to recall the day when firemen could barely communicate.
"I remember running across many a pasture carrying instructions from one place to another. That's the best we had," he said.
Now ESD 2's best is high on poles or inside garage doors or underneath colorful lighting.
Eric White tells the reason.
"First, everyone is helping," White begins. "Then we believe that a volunteer fire department is not something you should be able to drive past and not know what it is. It should stand out as something to be proud of, not something you don't know anything about until the moment you need it and make a call."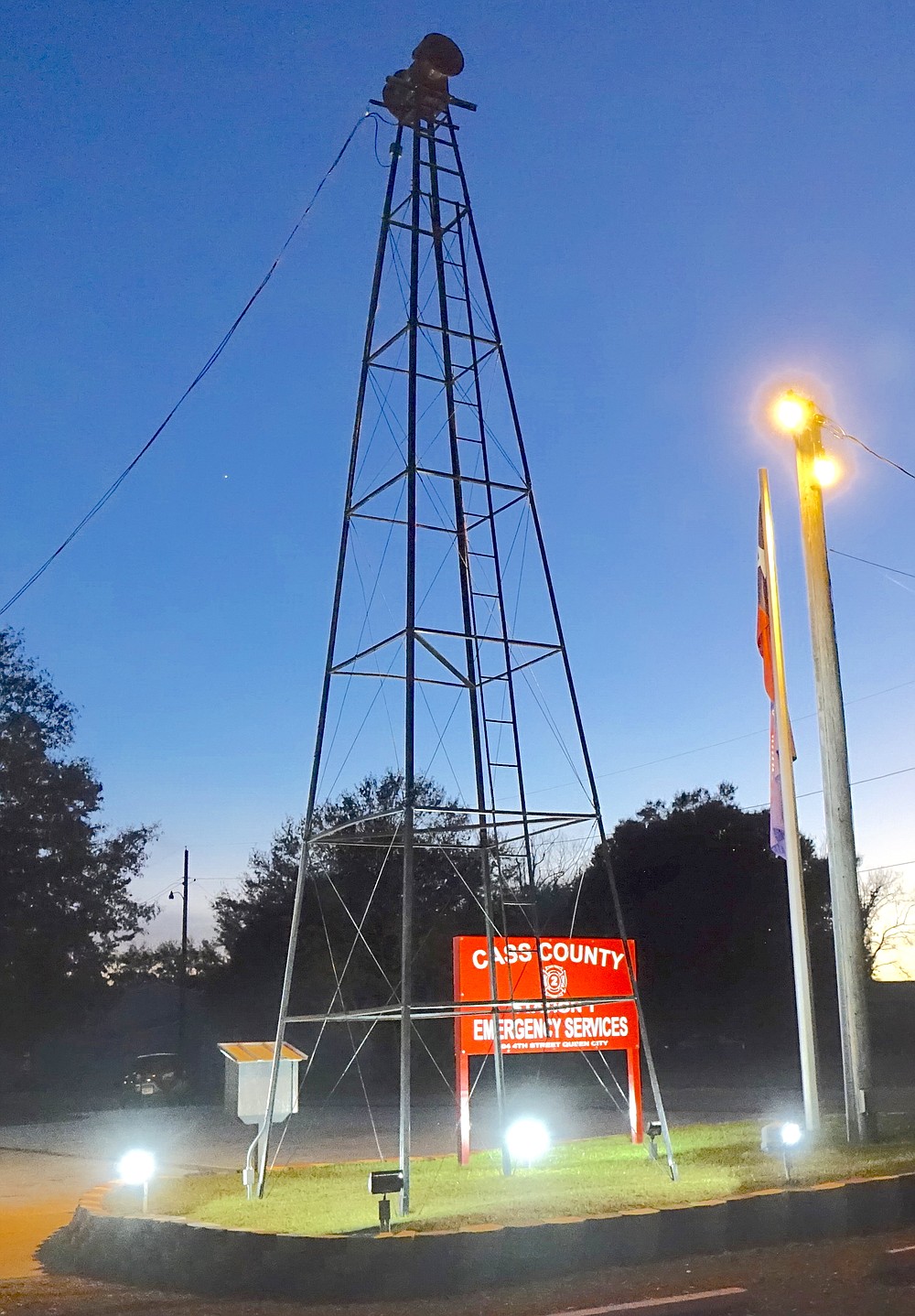 Lights look up from the ground to draw attention to the siren and the work of the volunteers of the Cass County Emergency Services District 2.
Chris Hall is high in the air as the siren is lowered to its mount by the crane.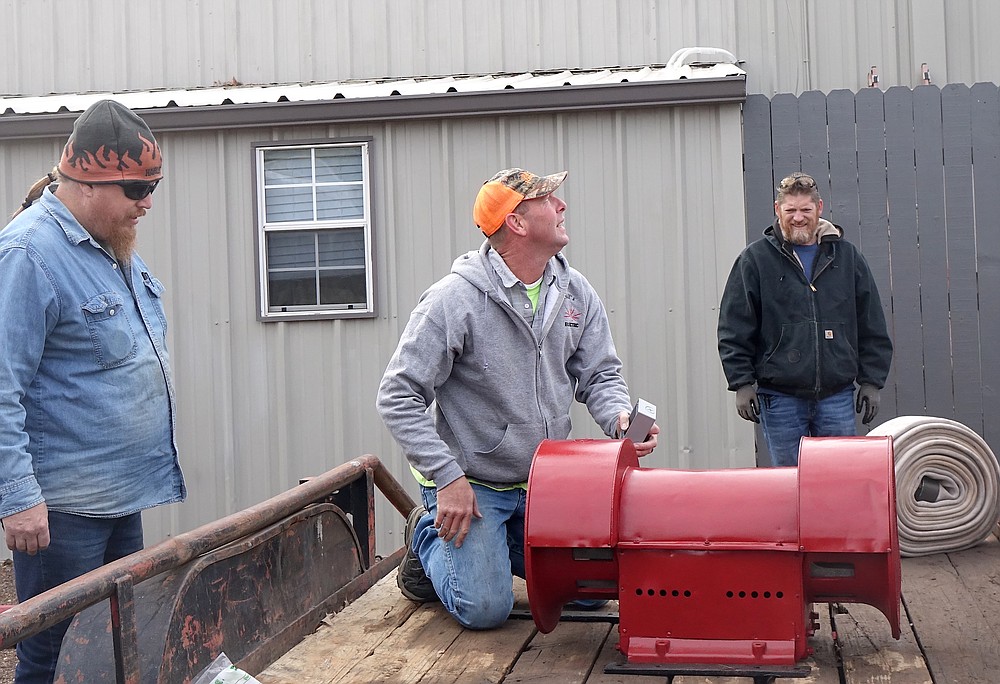 He has to go up there. Chris Hill, owner of Hill's Electric, visually measures the height the crane must lift the siren. Employees Jeff Glascow, left, and Sig Glasgow are measuring, too.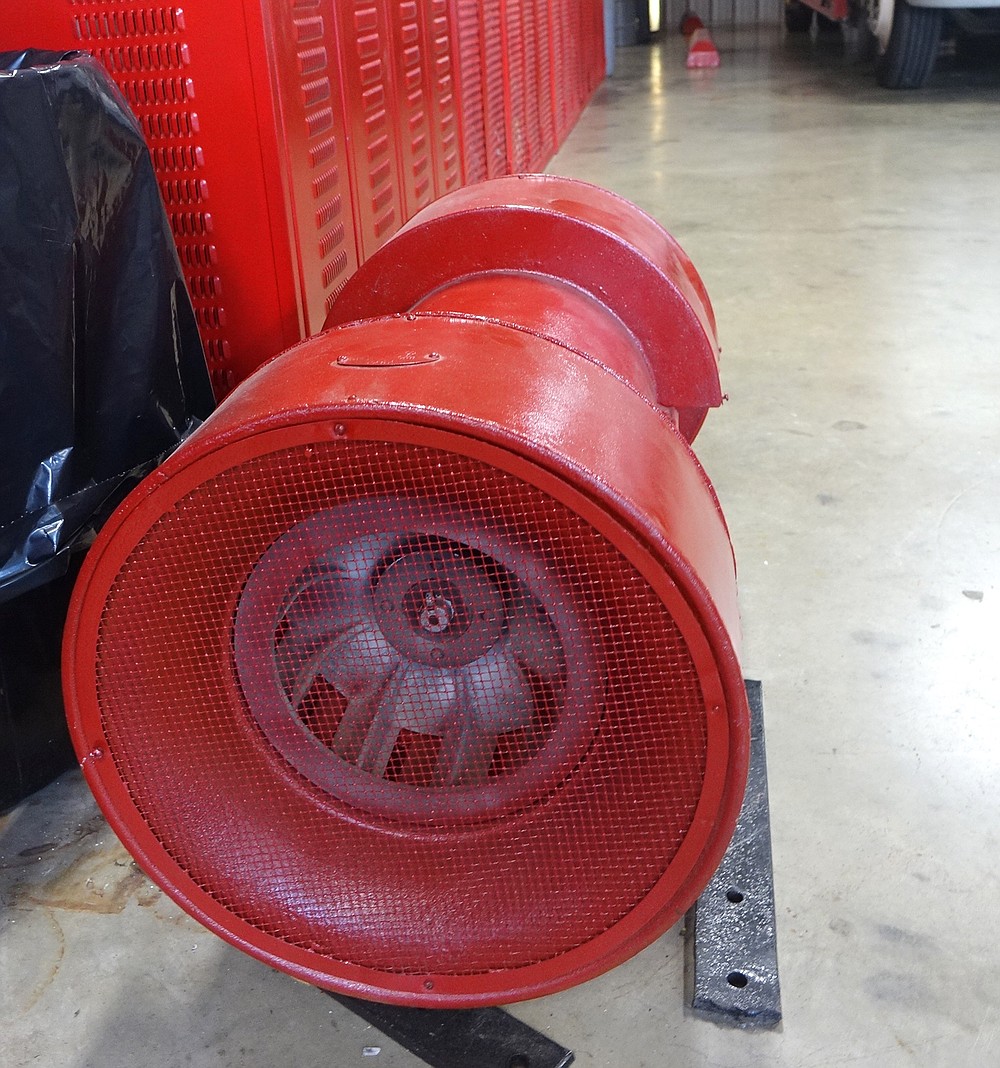 This is it. The siren was installed at Maud in 1952 but stopped working in 1987. Restored recently by Butterfield Electric in Texarkana, the siren now works for the community of Queen City.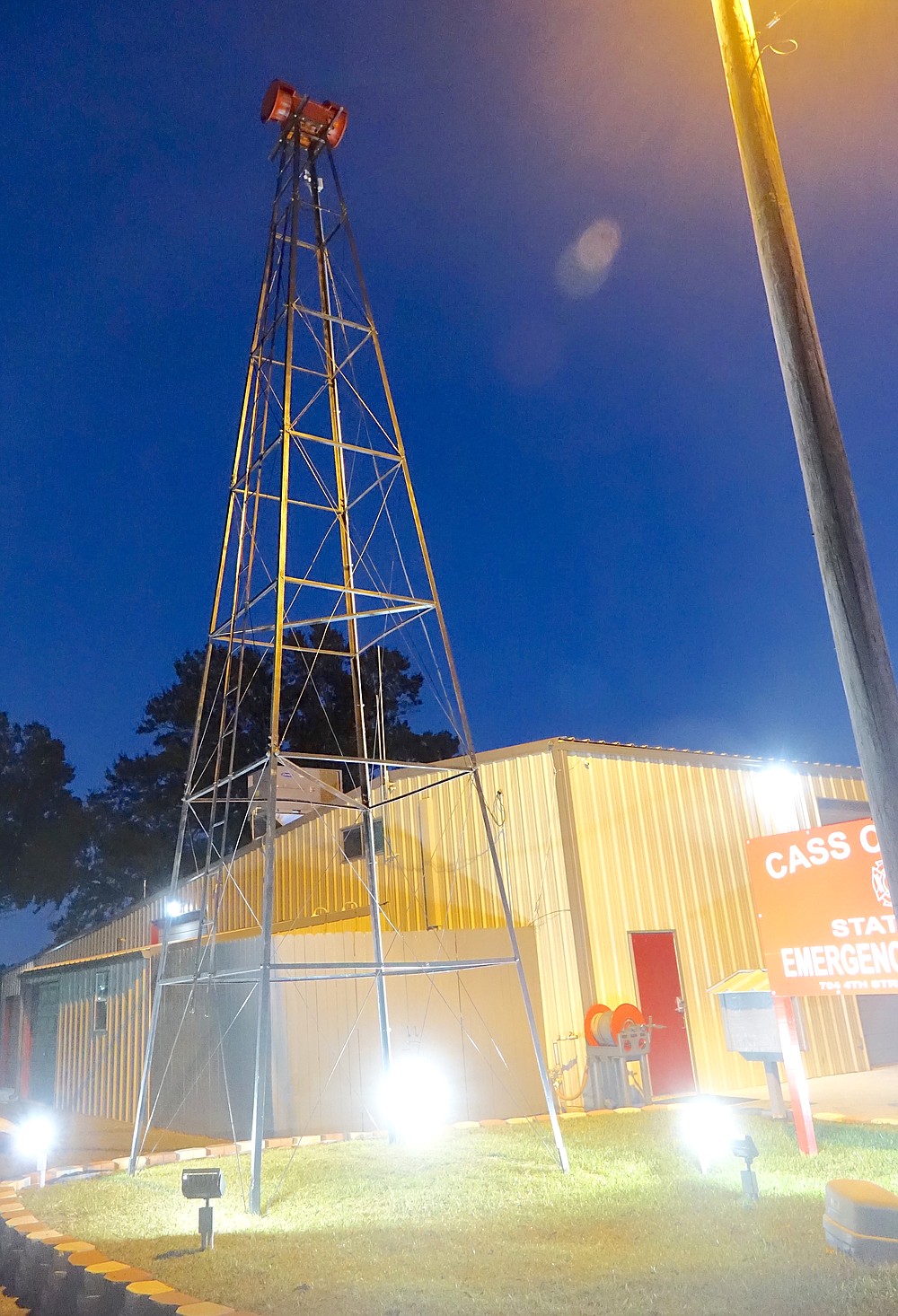 Need a bit of sparkle in your life 360 days and nights per year? Go by Cass County's Emergency Service District 2, fire station number one in Queen city and see for yourself.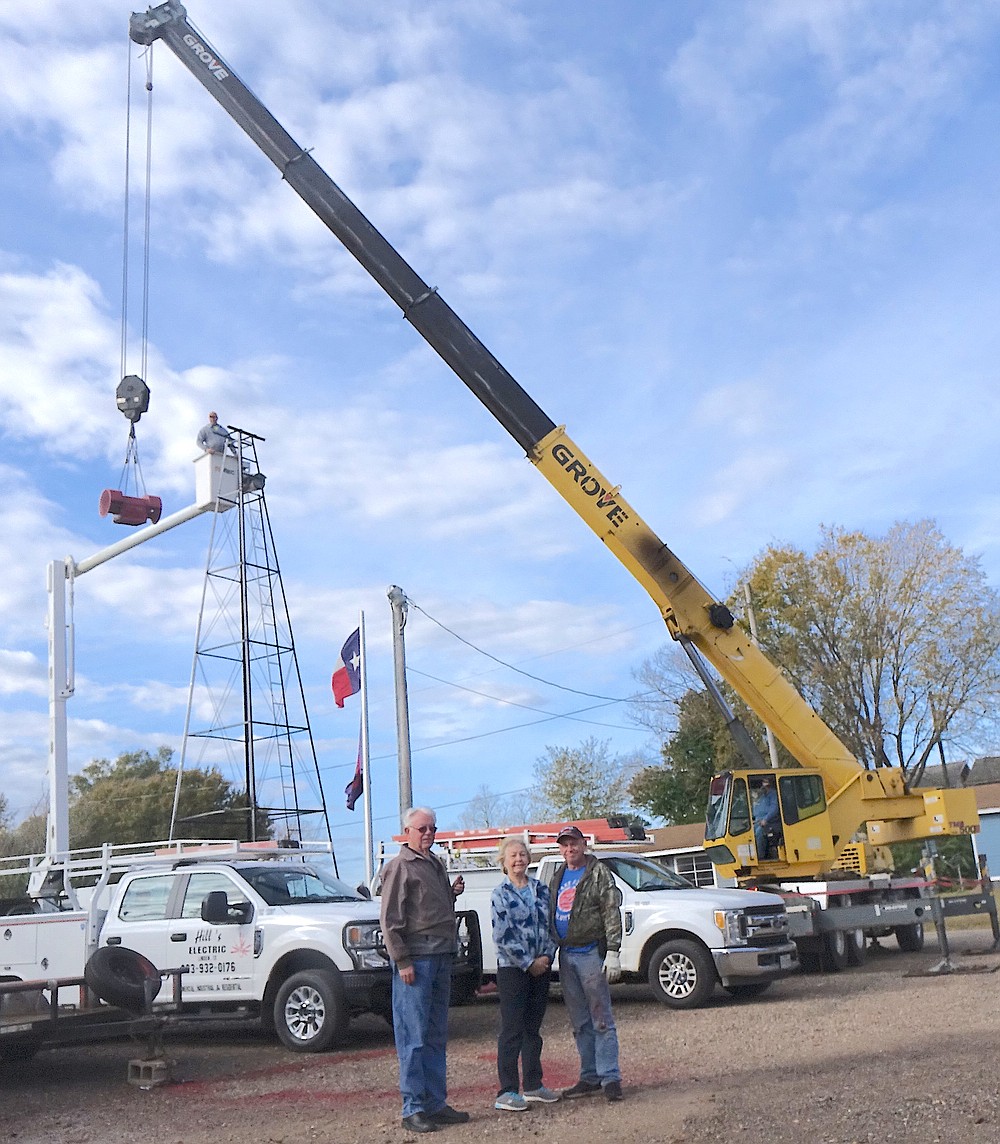 Richmond and Jane White stand with their son Eric as they see the at least 70-year-old siren being installed at the Cass County Emergency Services District 2, fire station No. 1, in Queen City, Texas. The installation required patience and a crane. Eric is assistant fire chief for the volunteers.