TEXARKANA --Cans and boxes of non-perishable food items line shelves inside the Salvation Army pantry.
The organization of the pantry and the distribution of the food is a main focus of the Salvation Army Texarkana Corp's Women's Auxiliary.
"We make sure we have all of the different food types and we put the boxes together for distribution," said Women's Auxiliary Member Rita Freeman.
Freeman has been a volunteer with the auxiliary for about 11 years.
The group is a fundraising, volunteer service group that supports the Texarkana Salvation Army Corp.
When Freeman joined, she had just retired from a 31-year teaching career in her hometown of Maud, Texas
She and her husband had moved to Texarkana. Her husband, Roy, is pastor of Eylau Christian Church. The couple stay busy with family and church activities. However, Rita still wanted a volunteer position where she could be involved in the community but still have a flexible schedule.
"I wanted to do something where I would meet people. But I didn't want to be the boss," Freeman laughed.
She attended a reception for prospective Salvation Army volunteers and thought the organization might be a good fit for her.
She volunteers in the pantry once a month on Wednesdays, organizing food items and filling boxes to give to those who need them.
Before the Covid-19 Pandemic, the Salvation Army held food giveaways two or three days a week. Since then, they have mainly been doing a drive-through food giveaway once a week. Members also volunteer as Christmas bell ringers and at the Angel Tree in Central Mall. They also hold an annual style show and luncheon.
The Texarkana Women's Auxiliary has a long history. It was the first auxiliary established in the entire Texas Division. The original group was just a few women who wanted to support the Salvation Army of Texarkana. It has since grown to over 100 members, according to the group's website.
One of the group's earliest projects was the Stone Soup luncheon. That tradition continues today with the exception of the last two years when it was canceled due to COVID-19.
Most auxiliary members are retired, but the group is always looking for new members of all ages.
"There are plenty of projects for people looking to be a part of something," Freeman said.
In the last year, the Salvation Army of Texarkana has provided 22,101 meals to clients and 5,703 nights lodging. The auxiliary has provided 1,889 food boxes and 710 Angel Tree Christmas gifts.
The Texarkana Salvation Army is located at 400 E. 4th St.
Rita Freeman working in the Salvation Army pantry.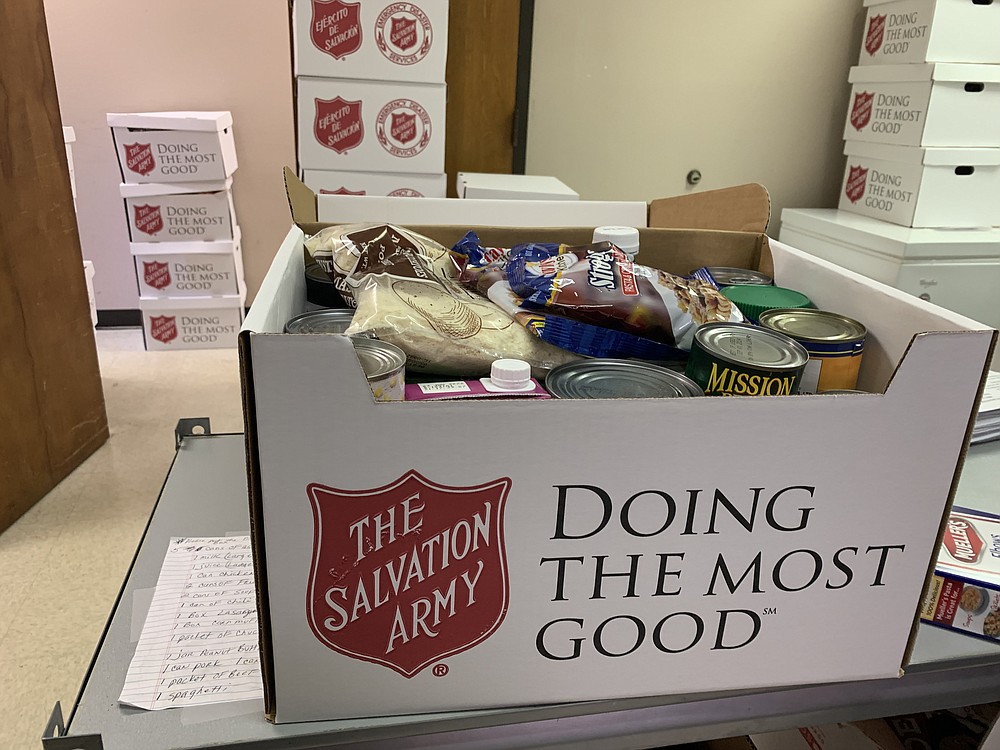 A box of food is ready to be distributed.